Bills Hold On For Primetime Win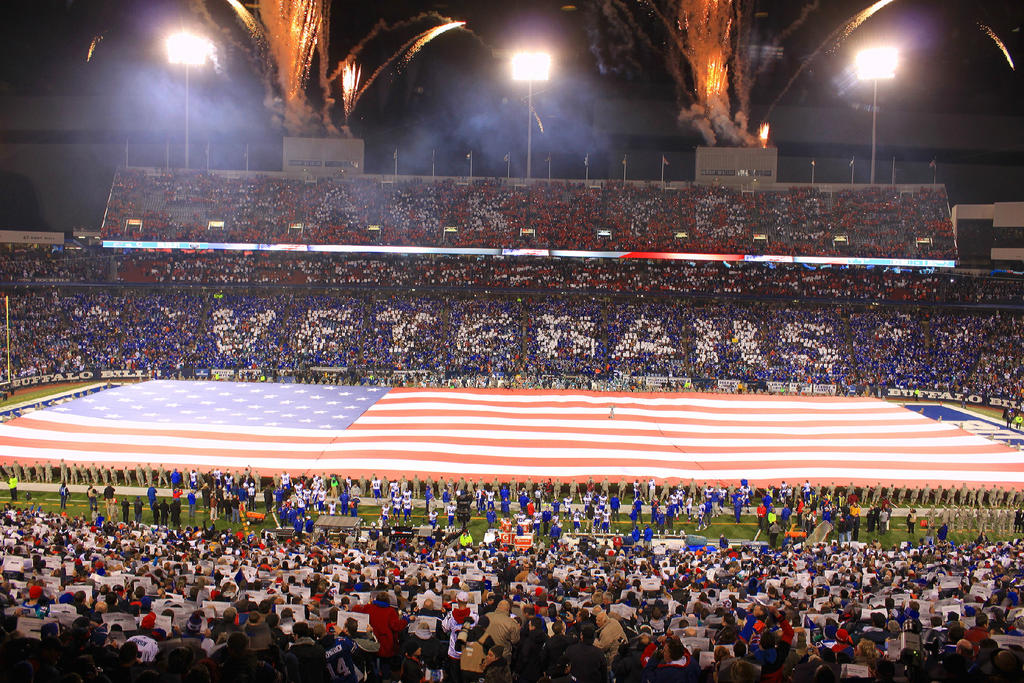 Questionable Play Calling: The Bills may have escaped Ralph Wilson Stadium with a win on Thursday night but questionable play calling and issues that continue to crop up with the coaching of this team made the game closer than it should have been. Tony Bogyo's latest article talks about those issues and what the team should do going forward to build on the win. Complete Story.
Saturday November 17, 2012
Players Get Rest: All week we were hearing how tough it is on players and coaches to play on Thursday night. Now they are getting the fruits of their labor. The players have the entire weekend off and the coaches will get a bit of a break too before getting together on Sunday to work on the gameplan for Indianapolis. The players get back to work on Monday.
The quickest way to get breaking news from Bills Daily is to

follow us on twitter!
Friday November 16, 2012
Jackson, Kelsay May Play Next Week: Chan Gailey said today that both Chris Kelsay and Fred Jackson have a good chance at returning to practice on Wednesday. He said Jackson feels much better and is going through all the tests that need to be done after a concussion and so far everything has gone as planned. Kyle Williams was feeling better today after hurting his elbow in the win yesterday. He is expected to be fine. He had played most of the game with a dead arm. Aaron Williams and Mark Anderson have a lower chance at returning next week, the coach said they are 50-50. Injury Page.
Gameday Grades: The much maligned defense just dominated this game from the start and finished it off with two big interceptions. They really picked up the slack for a poor conservative game plan on offense. Gameday Grades.
Bills Win 19-14: Leodis McKelvin returned a punt 79 yards for a touchdown and Rian Lindell hit four first half field goals as the Bills held on to beat the Dolphins 19-14. The Buffalo offense did not score a single point after halftime. Marcus Thigpen returned a kickoff 96 yards for a score for Miami. Ryan Tannehill tried to lead a fourth quarter rally hitting Davone Bess for a touchdown before throwing interceptions on his final two drives as Jairus Byrd and Bryan Scott picked him off to clinch the win. C.J. Spiller had 130 total yards on offense but the story of this game was the defense that gave up only 184 yards in offense and had three takeaways in all. Bills Blitz.
Bills Stay Healthy: The Bills made it through the game apparently healthy. Mario Williams was banged up in the 2nd quarter and missed a couple of plays but returned after talking to trainers. Kyle Williams left the game in the first series with an arm injury. He originally thought he broke it and did play the rest of the game with arm feeling dead. C.J. Spiller came off late in the 2nd quarter with a slight limp but it didn't hamper him in the second half. Nick Barnett was seen by Joe Buscaglia of WGR getting x-rays after the game for an undisclosed injury. Injury Page.
Thursday November 15, 2012
Gamenight Inactives: Chris Kelsay, Mark Anderson, Fred Jackson, and Aaron Williams are inactive with injuries leaving just three healthy scratches: Tavaris Jackson, Thomas Welch, and Kirk Morrison. Mana Silva is active for the first time as a Bill.
Cool But Calm Weather Tonight: The weather will be fine for tonight's game but chilly like you would expect for a night game in mid November in Orchard Park New York. The gametime temperature will be around 37° under partly cloudy skies with calm winds out of the Northeast at 4mph and no rain in the forecast.
For in game commentary

follow us on twitter!
Wednesday November 14, 2012
Kelsay Ruled Out: Chris Kelsay has been officially ruled out for the game tomorrow night along with Aaron Williams, Fred Jackson, and Mark Anderson. 13 players are listed as probable and all of them should play. The only new name on the injury report is Marcus Easley with a shoulder issue. Injury Page.
Johnson Questions Play: Stevie Johnson was the latest to weigh in on the fateful play that cost the Bills a chance at an upset Sunday. Johnson said don't blame T.J. Graham since he never ran that play in practice or a game during the season. Graham admitted he hadn't run the play since training camp but re-iterated it is his fault. Johnson said that play should have been run by a more experience route runner like himself, Donald Jones or Scott Chandler.
Dareus Hamstring Bothering Him: The Bills had no changes to the injury report from Monday to Tuesday but there was a change. Marcell Dareus was limited again but now besides his shoulder ailment he has a hamstring problem. The Bills say he did not injury it in practice and he should be fine for the game according to the team website. Injury Page.
Tuesday November 13, 2012
Kelsay Not Practicing Today: Chris Kelsay did not practice today and while Chan Gailey is not ready to rule him out yet, it appears very doubtful that he will play on Thursday night. As expected Mark Anderson, Aaron Williams, and Fred Jackson also sat and won't be playing Thursday night. Injury Page.
Primetime Matchup: The Bills and Dolphins meet in what may be the last stand as the loser will be all but done in the AFC playoff race. A tough primetime matchup is ahead for two teams coming off of losses on Sunday. Game Preview.
Four Held Out: The Bills held a walk through last night in preparation for the Miami game on Thursday. The team did not review the film of the Patriots game and jumped right in to Miami. Mark Anderson, Chris Kelsay, Aaron Williams, and Fred Jackson sat out practice and won't play on Thursday. Eight players were limited and four players practiced fully. It is expected all 12 of those players will be ok for the game this week. Donald Jones was not on the injury report after getting the wind knocked out of him late in the loss to New England. He is fine. Injury Page.
Monday November 12, 2012
Howell Back With Team: The Bills have re-signed Delano Howell to the practice squad. He was cut from the 53 man roster last week to make room for Mana Silva. He cleared waivers and was re-added to the squad. He was an undrafted free agent that made the team out of training camp. Front Office Page.
Jackson Ruled Out: Chan Gailey announced today that Fred Jackson has already been ruled out for Thursday night's game. He was being tested for concussion like symptoms. Those tests came up positive for a concussion and he needs to rest until the symptoms disappear. Fans will get one wish, although they didn't want it this way, and that is more touches for C.J. Spiller. In other injury news, the coach confirmed that Mark Anderson did have another procedure and will be out another two to three weeks. The coach also doesn't know if Chris Kelsay will be ready to play since it is a short week. Injury Page.
Thursday's Game Soldout: The Bills announcd that Thursday night's game against Miami is soldout and the blackout has been lifted. The Bills have now soldout all four home games. The remaining three games at Ralph Wilson Stadium have plenty of tickets available. More than 15,000 tickets each for the Jacksonville and Jets games while more than 10,000 remain for the Rams game.
Jackson Hurting: Chan Gailey updated everyone on the condition of Fred Jackson during his weekly interview on WGR. He said he has concussion like symptoms and was not feeling well on the plane coming home. It seems like it is doubtful he will be ready on a short week to play on Thursday night. The only other apparent injury in the loss was to Donald Jones but he returned and should be ok. The team has a walk through practice tonight as they get ready to play a game and three days. Injury Page.
---
News Archives index
Latest News Section
Archives Library
Back to Bills Daily Homepage