Bills Lose Another Heartbreaker In New England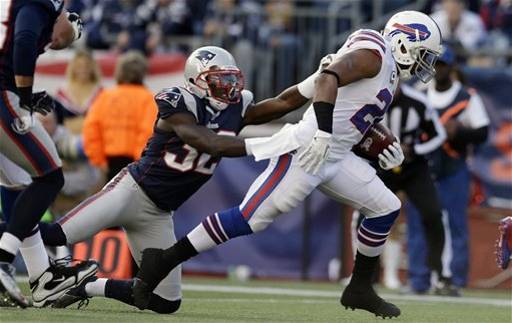 Gameday Grades: The Patriots scored on seven on nine possessions that mattered. You can talk about the red zone turnovers and penalties but if the defense was better earlier they would have won the game. They did stiffen a bit at the end but it was too little too late. Gameday Grades.
Bills Lose Tough One: Ryan Fitzpatrick's interception in the end zone by Devin McCourty with :28 left stopped the Bills comeback effort as they never caught up to New England in a 37-31 wild loss. The team continues their run of futility in New England as they never have won at Gillette Stadium. Fitzpatrick had a solid day throwing for 337 yards and two touchdown passes to Scott Chandler and Donald Jones. The defense struggled stopping the Patriots but did a better job against them in the final quarter holding them to two field goals giving the Bills a chance to win. Buffalo trailed by two touchdowns three different times before mounting a comeback. They made many mistakes as they were called for way too many penalties to go along with three turnovers and that was too much to overcome even with 481 total yards on offense. Fred Jackson ran for two touchdowns but fumbled twice losing one at the goal line also hurting the comeback bid. He had 115 total yards while C.J. Spiller had 131 total yards. Tom Brady threw for 237 yards and two touchdowns while they also had two scores on the ground. Bills Blitz.
Jones, Jackson Hurt: The Bills were getting through the game injury free until the last minute comeback attempt. Donald Jones and Fred Jackson both needed help getting off the field in the final minute costing the Bills two timeouts. They were both shaken up pretty good. Jackson got hit very hard and it may be a concussion. Gailey wasn't asked about Jones at his post game press conference. Injury Page.
Kelsay Inactive: Chris Kelsay will not play for the Bills today as he is inactive with the neck injury suffered in practice on Thursday. All the other players listed as questionable including Shawne Merriman will play. Mark Anderson and Aaron Williams are also inactive as they were ruled out at the beginning of the week. The healthy scratches are: Tavaris Jackson, Thomas Welch, Mana Silva, and Kirk Morrison. Marcus Easley is active for the Bills along with newly signed corner Crezdon Butler.
Nice Day For Football: It will be a beautiful mid autumn day for football in New England today. The gametime temperature in Foxboro is expected to be 57° with the sun shining throughout the game. The wind will be out of the south at 12mph.
For commentary during the game

follow us on twitter!
Friday November 9, 2012
Bills Make Another Roster Move: The Bills finished a week with another in a long line of roster moves. They activated safety Mana Silva from the practice squad and released Delano Howell. Silva had two stints on the Bills practice squad re-signing with the unit on Oct. 2nd. He has played in five career games all with Dallas. Front Office Page.
Kelsay Misses Practice Again: Chris Kelsay did not practice today and is listed as questionable for Sunday's game in New England. He hurt his neck in practice yesterday and Chan Gailey said it is a wait and see approach with him. They will wait to see how he responds to treatment for deciding if he will play. The injury is not considered major and he would likely return next week if he misses the game. Shawne Merriman is also listed as questionable after suffering a chest injury in practice yesterday. but he is expected to play. Kyle Moore would get the start for Kelsay though according to what Gailey said today. Kraig Urbik and Stevie Johnson are also listed as questionable but will play on Sunday. 14 players are listed as probable and all those players should go as well. Injury Page.
Nix Talks QBs: Buddy Nix appeared on his weekly radio segment on WGR today and was talking the future at quarterback. Last week on the show he said he would not leave his job without having a franchise quarterback in place. This week he said they really need to address the quarterback situation in the draft this year and he is out scouting QBs. He did caution that you can't just create the QB of the franchise and force the issue that will cause bigger issues. He said this is the time to pull the trigger on the position. Buffalo News' Tim Graham lists USC's Matt Barkley, West Virginia's Geno Smith, Arkansas' Tyler Wilson and Tennessee's Tyler Bray as the top QB prospects.
Thursday November 8, 2012
Kelsay Leaves Practice: Chris Kelsay left practice early today with a neck injury. He will be futher evaluated and they should know more tomorrow. If he can't go on Sunday Shawne Merriman would get the start Chan Gailey said. He left practice early however with a chest injury. Stevie Johnson returned to practice on a limited basis and he said his thigh felt better than he thought it would but it was a little weak. Kyle Williams also was limited in practice with his ankle injury after missing practice yesterday. Gailey said he will likely sit on Wednesday the rest of the year. Spencer Johnson and Kraig Urbik were limited again on Thursday but should play Sunday. Injury Page.
Another Tough Challenge: Things don't get easier for the Bills this week as they travel to New England to play the Patriots in a stadium they have never won in. They need to pull off the monumental upset if they want to keep their playoff hopes alive. Game Preview.
Wednesday November 7, 2012
Four Sit: Four players sat out practice today, Aaron Williams, Mark Anderson, Kyle Williams, and Stevie Johnson were all expected to sit. Kyle has sat the past few Wednesdays as his ankle has been bothering him. Johnson is expected to do some limited work tomorrow and then some more on Friday so he will be on track to play on Sunday. Kraig Urbik and Spencer Johnson were limited and 12 players were listed on the report that practiced fully including Ryan Fitzpatrick with a chest issue. Injury Page.
Bills Fill Out Roster: The Bills added two players today at positions of need to get the roster up to 53 players. Signed by the team were OT Thomas Welch and CB Crezdon Butler. Welch adds depth to the depleted tackle position while Butler comes in to unit that has just four healthy players at the position. Butler was a 5th round pick of the Steelers in 2010 and was on the Cardinals practice squad when the Bills signed him. He also spent time on the Redskins practice squad. Welch was a 7th round pick of the Patriots in 2010 and was released by the Eagles before the start of this season. He appeared in five games for St. Louis and three games, including one start, for New England in 2011. Front Office Page.
Miami Game Looks To Sellout: Russ Brandon was on WGR today and said he expects the Miami game to sellout in time to lift the television blackout. There are approximately 2,000 tickets left for the game. Since it is a Thursday night game they need to sellout by 8:30pm on Monday to lift the blackout. It is likely some organization or the team will step up and buy the remaining tickets. It will also likely be the last sellout as plenty of tickets remain for the three Ralph Wilson Stadium games in December.
Tuesday November 6, 2012
Easley Promoted: The Bills have promoted Marcus Easley from the practice squad and added WR Chris Hogan to that unit. They also placed Erik Pears and Terrence McGee on injured reserve ending their seasons and released kickoff specialist John Potter. The moves leave two open spots on the 53 man roster. Pears has struggled all year with a hip/groin injury that has bothered him since offseason surgery. McGee was put out of his misery as he never was able to make it back from his torn patella tendon. The hand writing was on the wall for Potter who was inactive the past two weeks. Easley gets a chance to help a pop gun passing attack. Hogan spent time on the Giants and Dolphins practice squad last year. Front Office Page.
Bills Lack Talent, Coaching: We can analyze all day long why the Bills are 3-5 but the bottom line seems to be lack of talent and poor coaching. This is the same problem that has been in place in Western New York for more than a decade. Tony Bogyo talks about the latest woes regarding our team. Complete Story.
Monday November 5, 2012
Williams, Anderson To Miss A Few Weeks: Aaron Williams had an MRI today and found out his injury is not season ending but he will miss a few weeks. Mark Anderson had a setback in his recovery from his knee injury. He will undergo another procedure and miss another two to three weeks but his injury is not season ending either. Chan Gailey hopes to have Terrence McGee back at practice this week but Erik Pears is likely not to return to practice this week but they hope to get him back after he is re-evaluated in two weeks. Injury Page.
Williams To Have MRI: Chan Gailey said on WGR this morning that Aaron Williams will undergo an MRI for the knee injury he suffered in yesterday's loss. The team will have to wait to see how Stevie Johnson reacts to his thigh injury suffered yesterday, Gailey said it can hinder him this week. The team also hopes that Terrence McGee is able to do more this week after sitting out yesterday's game to rest his recovering torn patella tendon. If he can't go and Williams is out, Leodis McKelvin becomes the starter on the outside opposite Stephon Gilmore while Justin Rogers and Ron Brooks will see their roles increase in the nickel and dime defenses. Injury Page.
The quickest way to get breaking news from Bills Daily is to

follow us on twitter!
---
News Archives index
Latest News Section
Archives Library
Back to Bills Daily Homepage