Bills Lose In Houston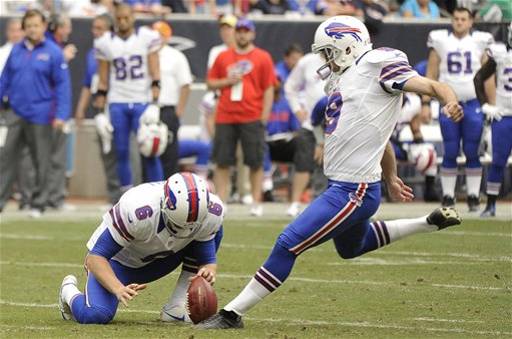 Gameday Grades: The Bills played hard especially on defense but the offense couldn't do much besides Rian Lindell's three field goals. The bottom line is the red zone woes hurt and they just don't have enough talent to compete with the AFC big boys. Gameday Grades.

Bills Lose 21-9: Matt Schaub threw two touchdown passes and Arian Foster ran for one as the Texans defeated the Bills 21-9. The Buffalo Offense got into the red zone three times but failed to put the ball into the end zone. Rian Lindell hit three field goals from 22, 39, and 38 yards out after missing his first attempt as that was the whole offense for the Bills. Ryan Fitzpatrick threw for 239 yards completing 25 of 38 passes but he fumbled the ball away as the Bills tried a late comeback. C.J. Spiller and Fred Jackson each carried the ball only six times in the loss. Spiller finished with 102 total yards rushing and receiving. Bills Blitz.

Williams Played With Torn Ligament: Aaron Williams came off with a right knee injury and did not return. He had to get help off the field and couldn't put pressure on his leg and was seen on crutches in the locker room. Stevie Johnson struggled with some pain in his right thigh. It caused him to miss a few plays here and there and he tried to keep it loose on the side. It definitely hampered him in the game and he couldn't finish it but is expected to be ok. A source told Adam Schefter that Mario Williams was playing with a torn ligament in his wrist that made it like he was playing with one arm in the first half of the season. The surgery he had last week fixed the issue. Injury Page.

McGee Among Inactives: Terrence McGee is inactive after being listed as doubtful but making the trip to Houston. Mark Anderson and Erik Pears were ruled out already. All other banged up players are active. The healthy scratches are: Tavaris Jackson, Delano Howell, John Potter, and Kirk Morrison. That means Ron Brooks will make his NFL debut today.

Nice Day In Houston: The Bills landed in rainy weather yesterday in Houston and it will still raining this morning. For the game it should be Sunny and 80° with little wind but the roof is likely to be closed.


Saturday November 3, 2012


Pears Doesn't Make Trip: Erik Pears did not make the trip to Houston and has been downgraded to out. The team was waiting to see if what the specialist did would help but he is unable to go. Terrence McGee remains doubtful but he apparently made the trip. Injury Page.


Friday November 2, 2012


Injury Report Explosion: After being fined $20,000 by the league for an injury report violation the Bills are taking no chances with their injury report and neither is Houston. The Texans list 16 players on their report with 15 listed as probable and one player out, RB Ben Tate. The Bills also have 15 players listed as probable and all of them should play. They also have six players with other injury designations bringing the total on their report to 21 players. Chad Rinehart and Mark Anderson have been ruled out. Rinehart has been placed on injured reserve so the club could activate Ron Brooks. He may need to play as Terrence McGee is doubtful along with Erik Pears. Kyle Williams and Cordy Glenn are questionable but are expected to play. Injury Page.


Thursday November 1, 2012


Pears Sits; Anderson Out: After being limited in practice on Wednesday with a hip injury, Erik Pears sat out totally on Thursday. He was sent to a specialist to look at the same injury he had in training camp, then it was called a groin injury. It is unknown his status for Sunday. Chris Hairston took his reps at right tackle while Cordy Glenn tries to round back into shape on the left side. It looks decent for Glenn being able to go on Sunday. Mark Anderson did not practice today and has been ruled out for Sunday's game. Chan Gailey had said today was the target date to get Anderson back on the field in order for him to play on Sunday. Injury Page.

Near Impossible Matchup Ahead: The Bills head to Houston this weekend to play the 6-1 Texans. This could be as close to an impossible matchup against the AFC powerhouse. Mario Williams goes up against his former team with something to prove. The Bills will battle defensive MVP candidate J.J. Watt. This will be very tough for Buffalo who desperately needs a win as both teams are coming off the bye. Game Preview.

Injury Report Long: The Bills hit the practice field Wednesday and listed many on the injury report including nine players who practiced fully. Terrence McGee, Kyle Williams, Erik Pears, and Cordy Glenn were limited while Mark Anderson and Chad Rinehart did not practice. Rinehart is likely headed for injured reserve as the team is expected to activate Ron Brooks from the injured reserve designated to return list. Anderson likely will sit at least one more week before returning. McGee did more in practice today and hopefully will be able to play some on Sunday. Injury Page.


Wednesday October 31, 2012


No Lease Deal Imminent: Russ Brandon told WGR this morning that no lease deal is imminent but talks have been productive and talks continue. There has been progress but Brandon said a report in the Niagara Falls Reporter that a lease deal is imminent is news to him. The report said an 8-10 year lease would be signed in the next week to 10 days. Brandon said he is optimistic that all sides are on the same page and he hopes it leads to the long term viability of the franchise with a long term deal. Brandon also said that there is nothing to the proposal for a new downtown stadium. The team doesn't think it's advantageous to the fan base to build a new stadium. The team's study on the stadium said as long as the bones and structure are solid there is no reason why the stadium can't flourish for years to come.

Practice Resumes: The Bills hit the practice field today as they will undergo their usual media day activities as they get ready for their game against AFC powerhouse Houston. All eyes will be on how Cordy Glenn looks and if Mark Anderson can return to practice this week. Those players are the major question marks injury wise along with struggling Terrence McGee. The team may get a reinforcement at defensive back as Ron Brooks is expected to be activated off the injured reserve designated to return list. If that happens they will need to make a roster move and that likely will be placing Chad Rinehart on injured reserve. Injury Page.


Monday October 29, 2012


Williams Does Not Practice: Mario Williams was back at One Bills Drive today but did not practice. He did cardio work and said he will definitely play Sunday against his former team and he already feels better. Cordy Glenn and Kraig Urbik practiced on at least a limited basis today. Urbik said he's definitely playing Sunday. Terrence McGee, Chad Rinehart, and Mark Anderson did not practice today. As expected Mike Caussin practice for the first time.

Back To Work: The Bills are back at it today at One Bills Drive as the players get a full Monday practice in which they normally don't get in a regular work week. They will then have their normal Tuesday off before media day on Wednesday. The team hopes to have Mario Williams on the field after undergoing a procedure last week. A team source told Chris Mortensen that the Bills found out about his arthroscopic surgery via a text to the trainers and his defensive line coach. The team will have Mike Caussin on the field for the first time this year as he will practice for the first time since being placed on the reserve PUP list.



---
News Archives index
Latest News Section
Archives Library
Back to Bills Daily Homepage