Bills Lose Another Winnable Game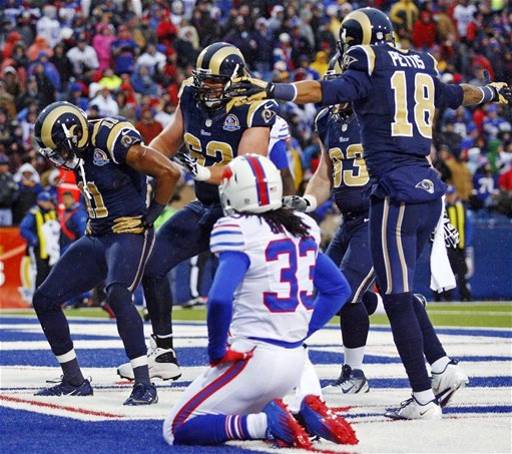 Bills Lose To Rams 15-12: For the second time this year the Bills lost a lead in the final minute at home to a mediocre opponent and went down to defeat. Sam Bradford ruined another solid performance by the Bills defense when he hit Brandon Gibson with a 13 yard touchdown pass with :48 left to give the Rams a 15-12 come from behind win over the Bills. The Bills had a 6-0 lead at halftime thanks to field goals from 35 and 40 yards out by Rian Lindell. Stephen Jackson scored from one yard out on the opening possession of the third quarter to give the Rams the lead. The Bills responded with a 75 yard drive to their only touchdown of the game, a 2 yard pass from Ryan Fitzpatrick to Lee Smith. The offense stalled the rest of the way and the defense wilted on the final drive leaving any lingering playoff hopes shattered. There will be no grades this week. Bills Blitz.

Jackson Hurt In Loss: Fred Jackson went down with what looked like a fairly substantial knee injury in the second half. He walked off gingerly under his own power before being carted to the locker room. Chan Gailey did not have any updates after the game. Jairus Byrd and Marcell Dareus got banged up but returned. Injury Page.

Windy, Cool Weather For Game: Gametime temperatures will struggle to reach 40° as the winds will be out of East at 15mph and the game will be played under cloudy skies with a chance of a few showers later in the game.

For in game commentary

follow us on twitter!
Saturday December 8, 2012
Offensive Line Shuffle: Chan Gailey will not divulge who will lineup where along the offensive line. Rookie David Snow and Kraig Urbik have been both practicing at guard and center. Urbik's normal position is guard and Snow made the team as a backup center it comes down to whether or not they want to trust a rookie in the middle of the line although he won't be making the line calls even if he plays center that will be handled by Urbik and Andy Levitre. Depth Chart.
Friday December 7, 2012
White Sits: Chris White was a new addition to the list of non-participants today. He missed practice along with Eric Wood and Mark Anderson who have been ruled out for Sunday's game. White is suffering from a back problem and is one of six players that are questionable. Stevie Johnson is one of those players and a final decision on whether or not he plays is expected after Saturday's walk through. He did more in practice today. For the Rams, Danny Amendola is expected to be a gametime decision. Injury Page.
Thursday December 6, 2012
Johnson Returns: Stevie Johnson returned to practice today on a limited basis and seemed to do ok. He has continously said he will play on Sunday. Kyle Williams also returned to practice as expected. The rest of the injury report remained the same. The only non injured reserve players not practicing were Eric Wood and Mark Anderson. They both have been ruled out for Sunday. Anderson told the media he had a torn lateral meniscus. Injury Page.
Hairston On IR: Chris Hairston is the latest Bill to go on season ending injured reserve. His bruised foot is too much for him to come back in a timely fashion. They used the roster spot to sign OT Chris Scott off of the Titans practice squad. He was a fifth round pick of the Steelers in the 2010 draft. He appeared in two games for Pittsburgh in 2011 and spent time this year on Green Bay's and Tampa Bay's practice squads. Depth Chart.
Bills Looking To Keep Hopes Alive: The Bills are looking to keep their faint playoff hopes alive in a December battle at Ralph Wilson Stadium against a dome stadium. The weather should give the Bills a big edge over a team also trying to keep faint hopes alive. The Rams have a big edge with a great front four going against a very banged up Bills offensive line. Game Preview.
Wednesday December 5, 2012
Two Tackles To Practice Squad: The Bills filled the two spots on their practice squad by adding two offensive tackles. Adam Grant was with the Broncos practice squad for 2011 and part of this year. He was an undrafted free agent out of Arizona. J.B. Shugarts was an undrafted free agent out of Ohio State who spent some time with the Browns practice squad this year.
Johnson Sits: Stevie Johnson did not practice today but says he's on target to play Sunday. He says his hamstring is about the same and he could play with it the way it is now. He hopes to get on the field on Thursday. Chris Hairston has now officially been ruled out for this week's game. Chan Gailey said he hopes he can make it back for the final two games. Mark Anderson is almost certainly out again this week but he's making progress and may play in Toronto. Eric Wood was the other play sidelined in practice today. Aaron Williams practiced on a limited basis but is taking more snaps than he has in previous weeks in hoping to make it on the field this week. Injury Page.
Kelsay On IR; 2 Elevated: The Bills have placed Chris Kelsay on injured reserve with the torn ligament in his neck. Chan Gailey said on Monday that it wasn't looking good for Kelsay to return. He tried to play once after the injury and didn't make it through the game. The Bills elevated CB TJ Heath and G Keith Williams from the practice squad. The moves were necessary with injuries at both position. Front Office Page.
Sunday's Game Soldout: There will be no blackout this Sunday when the Bills take on the Rams at Ralph Wilson Stadium. Thanks to the generosity of Russell Salvatore of Russellís Steaks, Chops and More. He has guaranteed to buy whatever tickets remain at kickoff to ensure the sellout. Tickets are still available at the box office. As of last week, about 10,000 tickets remain for the game.
Tuesday December 4, 2012
Win Doesn't Change Much: The Bills are coming off a solid victory over Jacksonville on Sunday but does it really change anything? Tony Bogyo doesn't think so, he feels it's time to enjoy the holiday season and that doesn't change with a victory that comes too little too late. Complete Story.
Monday December 3, 2012
Morrison Released: The Bills have released LB Kirk Morrison. The veteran was inactive for every game this year and they need his roster spot to help replenish the depth along the injured offensive line. The veteran was expected to start at strongside linebacker when he re-signed with the team in the offseason but lost his job to Arthur Moats who lost it to Nigel Bradham. Depth Chart.
Wood Has Torn MCL: Eric Wood is out at least two weeks and his season may be over after he suffered a torn MCL in the win over Jacksonville. The team will also likely be without Chris Hairston this week who is a longshot to play with a foot injury. That means little used David Snow and Sam Young will be pressed into action. Kraig Urbik will move to center while Snow will play in Urbik's guard spot. Young moves in to the right tackle spot. Leodis McKelvin and Donald Jones should be back on the field this week and Aaron Williams is closing in on getting back on the field. Stevie Johnson said his hamstring will be fine to play against St. Louis. Injury Page.
Wood Injury Looks Serious: Out of the four game ending injuries suffered in yesterday's win, it appears right now that the one to Eric Wood is the most serious. He had his knee immobilized after the game and did not talk to the media. He appeared to be in pain and there was no update from Chan Gailey this morning during his WGR radio show. Stevie Johnson said his hamstring was not a full pull, it just got tight and they shut it down so it wouldn't get pulled. He says he should be able to play next week with treatment. Chris Hairston said his ankle injury isn't too bad and he thinks he'll play on Sunday but it definitely looked worse when he was carted off. Leodis McKelvin had tightness in his back that happened overnight and they couldn't get it loose enough to play. His injury is considered the most minor. Donald Jones was held out as a precaution as his calf was still tight. Injury Page.
---
News Archives index
Latest News Section
Archives Library
Back to Bills Daily Homepage