Bills Hit Another New Low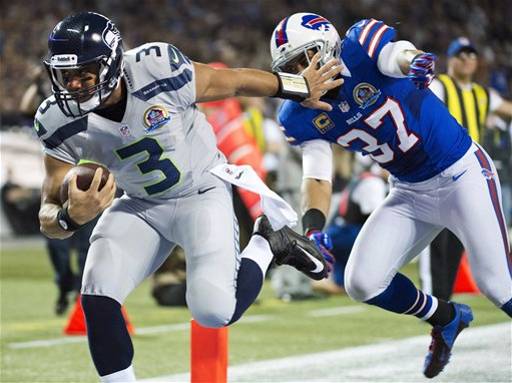 Gameday Grades: What is left to say? In a blowout loss like this it is an utter failure by almost everyone associated with the team. Check out the grades if you dare. Gameday Grades.

Bills Blown Out 50-17: The Seahawks blew the Bills out of the Rogers Centre early and never took their foot off the pedal in a 50-17 blowout of Buffalo. The Bills are now officially knocked out of the playoff race although it has been obvious for weeks that this team would miss the playoffs for an NFL high 13th consecutive season. This is the first Bills team to give up 50 or more points twice in one season. Seattle scored the first five times they touched the football as Russell Wilson ran for three first half touchdowns in opening up a 31-7 lead. The Bills responded with 10 points in the final 1:10 of the first half to pull within two touchdowns. Ryan Fitzpatrick than turned the ball over the first three times they had the ball in the second half that allowed the Seahawks to open up a 47-17 lead. Pete Carroll than showed no class by faking a punt in the fourth quarter that led to another field goal. C.J. Spiller and Stevie Johnson scored touchdowns for the Bills. Bills Blitz.

Moats, Easley Hurt: Arthur Moats was carted off the field after getting hurt in kick coverage late in the first quarter. He suffered an ankle injury and did not return. Marcus Easley also did not return after suffering a hamstring injury in the first half. Injury Page.

Early Inactives: Eric Wood was ruled out on Friday and is inactive. Out of the nine players that were listed as questionable, Donald Jones and Leodis McKelvin are inactive. Mark Anderson and Aaron Williams return from prolonged knee injuries. The healthy inactives are Travis Jackson, T.J. Heath, Jay Ross, and Chris Scott.

Roof To Be Closed: The roof will be closed at the Rogers Centre today when the Bills take on the Seahawks. Outside the stadium there will be rain showers with the temperature in the upper 40s.

For in game commentray

follow us on twitter!
Friday December 14, 2012
Barnett Practices: Nick Barnett was back on the practice field today which likely means he will play on Sunday. Donald Jones had a setback with his ongoing calf injury and took very few reps today and will be a gametime decision. They are two of nine players listed as questionable. Jones, Mark Anderson and Leodis McKelvin are likely gametime decisions with the other six likely ready to play. Anderson has made a lot of progress in trying to return from his knee injury and McKelvin has been battling a groin injury. Eric Wood is the only player ruled out of Sunday's game. Injury Page.
Nix On QB, WR: Buddy Nix had some interesting comments on his weekly radio show on WGR this morning. He once again said that getting a young quarterback in this year's draft is a priority. He took it a step further saying the time has come to get one even if they have to trade up or take one earlier than the player is expected to go. That does not mean a quarterback will necessarily be the first pick for the team. He also spoke of the need to get a big outside wide receiver who can go up and get the ball even if he's not open. He would like to have the flexibility to play Stevie Johnson in the slot as well as outside.
Thursday December 13, 2012
Barnett Still Out: Defensive players Marcell Dareus, Spencer Johnson, Kyle Williams, Jairus Byrd, and Leodis McKelvin all returned to practice on a limited basis after missing yesterday's session. Nick Barnett was the lone player still sitting out but he did some work on the stationary bike on the side and is expected to play on Sunday. He has been listed on the injury report the past couple of weeks with a knee injury. The only other player sitting was Eric Wood who has been ruled out for Sunday. Mark Anderson made significant progress from yesterday to today and now has a better chance at playing on Sunday. Injury Page.
Last Stand: The Bills faintest of playoff hopes take their last stand North of the Border in their annual trek to Toronto. A loss mathematically does what we have known for a while, the Bills will not make the playoffs. A win would be a confidence booster against a red hot team that is making noise in the NFC. Game Preview.
Wednesday December 12, 2012
Anderson Returns: Mark Anderson returned to practice today and has a slight chance at playing on Sunday. He was limited. Aaron Williams continues to practice and has a good chance at returning against Seattle. Marcell Dareus, Spencer Johnson, Kyle Williams, Jairus Byrd, Nick Barnett, and Leodis McKelvin all sat out practice today. Eric Wood was the lone offensive player not to practice. Injury Page.
Jackson On IR: Fred Jackson has been placed on injured reserve officially ending his season. He suffered a sprained MCL late in the loss to the Rams. The team promoted DT Jay Ross from the practice squad. They filled that spot by adding RB Zach Brown in case they need to activate a third back. He was with the team over the summer and had 82 carries for 357 yards for the Steelers this year. Front Office Page.
Tuesday December 11, 2012
Anderson, Williams Have A Chance: Chan Gailey said yesterday that the team has a chance at getting both Mark Anderson and Aaron Williams back this week in Toronto. Anderson will get worked out by trainers today and that will determine if he can practice tomorrow. Williams returned to practice last week and is expected to do more this week in hopes he can play. The team is still holding out hope they can get Eric Wood back for the Miami game next week. Injury Page.
Coaching Woes: As another losing season winds down the bullseye is squarely on Chan Gailey thanks to many questionable calls in the loss to the Rams. Tony Bogyo talks about why it is time for a coaching change. Complete Story.
Monday December 10, 2012
Jackson Season Over: Chan Gailey updated the injury to Fred Jackson this afternoon. He now says he will be out 4-5 weeks instead of the 2-3 weeks he said on WGR this morning. He suffered a sprained MCL not a tear. The results were made after an MRI this morning. The updated timetable means he will likely be placed on injured reserve. Injury Page.
---
News Archives index
Latest News Section
Archives Library
Back to Bills Daily Homepage