Bills Get New Lease And Another Loss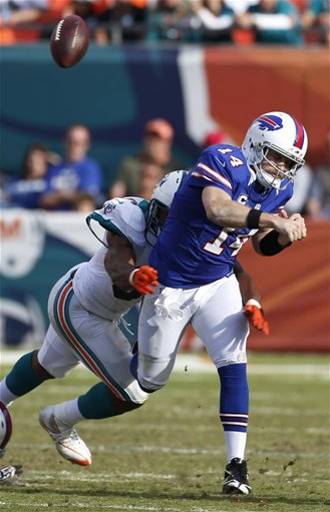 Gameday Grades: Another week and another embarrassing loss for the Bills. Doing the grades after games like this is getting tiresome as I'm tired of giving such low marks. Gameday Grades.

Bills Blitz: If this is how the Bills play to save their coach's job that I would hate to see how they would have played if they didn't like Chan Gailey. The Bills put together an unemotional, flat, sloppy, and all around pathetic effort in a 24-10 loss to the Dolphins down in South Florida. The loss clinches at least a share of last place as the Bills will spend another season in the cellar of the AFC East. Reggie Bush scored all three touchdowns for the Dolphins as they took control of the game with a touchdown just before halftime and early in the third quarter. C.J. Spiller was one of the few players to get off the beach and actually play in the game. He finished with 138 yards rushing on 22 carries. Ryan Fitzpatrick hit Brad Smith for a two yard touchdown pass in the fourth quarter. He then led a last minute drive before throwing an interception on the goal line for a fitting end to another terrible loss. Bills Blitz.

Many Hurt In Loss: As what seems to happen a lot in losses the injuries started piling up. Scott Chandler got injured on the Bills first offensive series. He injured his left knee after making a catch downfield. He was helped off the field and then carted to the locker room. He did not return and was on crutches after the game. Chan Gailey said it doesn't look good. Stevie Johnson limped off with a right leg injury but returned. Da'Norris Searcy also suffered a groin injury in the second quarter and did not return. Stephon Gilmore went to the locker room after being shaken up in the third quarter but he did return after being evaluated for a head injury. Dorin Dickerson needed an air cast put on his lower right leg and was taken off on a cart as he never got to his feet. He tweeted after the game that he is fine and will be ready for the finale against the Jets. Injury Page.

Wood Active: Eric Wood is active and will return to action after missing two games with a partially torn MCL. There were 11 players listed as probable and they are all active. Mark Anderson, Chris White, and Marcus Easley were ruled out on Friday. The healthy inactives are Travis Jackson, Keith Williams, Jay Ross, and Chris Scott. Recently re-signed Kirk Morrison and recent practice squad signee Greg Lloyd as well as T.J. Heath are active for the first time.

Sunny South Florida: It is a good time of year to be playing in Miami. The game will be played under partly cloudy skies with a high of 74°. There will be light winds out of the East Northeast at 5 to 10mph.

For in game commentray

follow us on twitter!
Friday December 21, 2012
Easley, White Sit: For the second day in a row Marcus Easley and Chris White were the only players not practicing and both have been ruled out along with Mark Anderson. That means just re-signed LB Kirk Morrison will be active for the first time this year and recently elevated LB Gregg Lloyd is also expected to suit up. Injury Page.
10 Year Lease: It is a 10 year lease with the terms that we previously reported. If the team doesn't take the $29 Million buy out option of year seven, they can take the money in the last three years of the lease and use it towards a new stadium if that is the course they take instead of using it on Ralph Wilson Stadium. Unless the team gives a proof of performance reason the buyout in the first six years is the $400 Million previously reported.
Agreement Looks For New Stadium Down The Road: The Bills, State, and County made it official at a press conference this morning announcing the new lease. The Governor was not in attendance because of weather issues but he appeared via satellite. Andrew Cuomo who gave a special thank you to Ralph Wilson for keeping his committment to Buffalo and a shout out to Commissioner Goodell for remembering his roots in Western New York. The Governor said the new deal keeps the team in Western New York for the next seven years. It also has them jointly exploring options for a new stadium down the road if that is financial feasible. It was a fair agreement for all parties the state will pay the majority of the funds in the agreement. The Governor is proud to make that investment in Buffalo and Western New York.
Monumental Day In Western New York: Russ Brandon represented the Bills at the press conference calling this another shining example of Ralph Wilson's committment and unwavering belief that the franchise can succeed in the area in the long run. He called it a monumental day because it's a significant step in securing the long term future of the Bills in Western New York.
Lease Deal Agreed To: The Buffalo News reports that the Bills have agreed to a 10 year lease deal that includes a hefty relocation penalty of $400 Million if the team was to leave with a one time option to leave with a penalty of just $29 Million after the 7th year of the lease. This means the team is very unlikely to move before the 2020 season because The NFL also has a relocation penalty. The deal reportedly includes $130 Million in renovations to Ralph Wilson Stadium which is almost $100 Million less than previous estimates. The Bills reportedly will chip in $35 Million for the renovation. No word on who will pay what of the remaining $95 Million in renovations. Gov. Cuomo will be in Buffalo for an 11am press conference at the stadium.
Thursday December 20, 2012
Several Return: Kyle Williams, Scott Chandler, and Andy Levitre returned to practice today on a limited basis increasing the likelihood that they will all play Sunday. Chris White and Marcus Easley remain sidelined. Easley has already been ruled out and White will try to practice tomorrow and will likely be a gametime decision. Eric Wood did more in practice today and is now on track to play on Sunday. Injury Page.
McKelvin To IR: The Bills have placed Leodis McKelvin on injured reserve which ends his season and kills his chances of making the Pro Bowl. He has been battling a groin injury that caused him to miss last week's game. His roster spot was taken by Kirk Morrison who was re-signed to primarily help with special teams now that Arthur Moats is on injured reserve and Chris White is banged up. Front Office Page.
Meaningless Game In Miami: The Bills head down to South Florida for Sunday's matchup with the Dolphins. The two teams are battling with the Jets to stay out of the cellar of the AFC East. The struggling Bills occupy that spot now and need a win over Miami to crawl their way out of it. Game Preview.
Lease Talks Progressing: Erie County Executive Mark C. Poloncarz seems very confident a lease deal will get done between the county, state, and the Bills. Talks were progressing before they were derailed for three weeks while the state re-directing its efforts and resources towards the recovery from Superstorm Sandy. The sides met on Tuesday and the one year stop gap deal is now dead as they work on the long term deal. The county is looking for a deal that will include a long term committment from the club in exchange for the money needed to renovate the stadium.
Wood Rips Toronto Series: Eric Wood said what most players and fans are thinking, the Bills Toronto series is a joke. He said he hopes it would end and it is like playing another road game. He made the statements in a radio interview yesterday morning and would not backtrack when asked by the media yesterday afternoon. Wood said it kills the players when they see the stadium rooting for the opponent or other NFL teams. Wood did admit he understands the need to play there from a business side and said he hopes it gets better in the future.
Wednesday December 19, 2012
Wood Practicing: Eric Wood is practicing today on a limited basis. He said he is going to see how the knee feels today and the plan is for him to play on Sunday. How he comes out of today's workout will be very important. Andy Levitre and Scott Chandler are new non-participants today. Also sitting were Kyle Williams, Leodis McKelvin, Chris White, and Marcus Easley. Chan Gailey would not elaborate on the illness that landed Donald Jones on the reserve list. His agent told AP it is related to the calf injury but it isn't serious. Injury Page.
Tuesday December 18, 2012
Roster Moves Made: The Bills placed Arthur Moats on injured reserve with his ankle injury as expected. What wasn't expected was placing Donald Jones on the non-football/illness list. He has been battling a calf injury but that isn't the likely reason for this move. The team promoted WR Chris Hogan and LB Greg Lloyd from the practice squad. They then added WR Keith Elliott and LB Brian Smith to the taxi squad. Hogan and Lloyd both were added to the practice squad in November. Elliott played in 13 games for Jacksonville this year and caught 10 passes for 108 yards. Smith saw action in two games for the Browns last year. Front Office Page.
Urbik Extension: The Bills have made it official, they have announced the signing of Kraig Urbik. ESPN reports that the deal is a four year contract extension worth $15 Million. AP reports it's worth $13.3 Million. The Bills do not disclose terms of contracts. He was due to become a free agent in the offseason. His signing is important as both of the Bills starting guards were due to become free agents in the offseason. The Bills now need to extend Andy Levitre's deal so they can keep their offensive line intact. Jairus Byrd and Kyle Moore are the other big free agents this offseason.
Monday December 17, 2012
Moats Season Over: Arthur Moats will not be able to play in the final two games after suffering an ankle injury during yesterday's loss to the Seahawks. Marcus Easley will at least miss this week's game against Miami with a hamstring injury. Eric Wood will return to practice this week, most likely on Thursday. He has an outside chance at playing this week. Injury Page.
Rock Bottom: There isn't much more you can say after the Bills once again found away to get to a new low. Tony Bogyo takes a different approach in this week's column appealing to Santa Claus for help in turning this team around. Complete Story.
---
News Archives index
Latest News Section
Archives Library
Back to Bills Daily Homepage