Bills Get Blown Out Again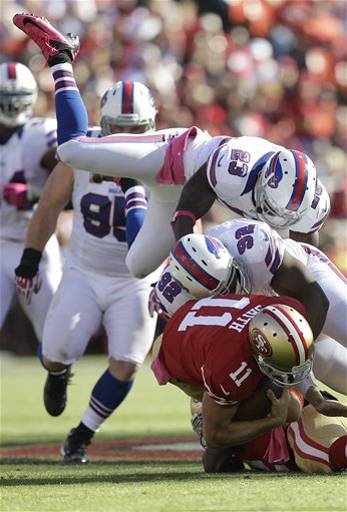 Gameday Grades: Do you dare look at these grades? The defense was actually worse than last week! The offense was pathetic throughout this game. There really isn't much to say. Gameday Grades.

Bills Blown Out Again 45-3: We have seen this many times before. The Bills take a long trip out West to play a quality opponent and they play like they never wanted to get off the plane. The Bills once again wasted perfectly good jet fuel as they were blown out 45-3. The Bills defense gave up a franchise record 621 total yards after giving up 580 yards last week. That debacle now ranks third on the all time team list for pathetic defensive play. They showed no mental toughness as San Francisco scored two second quarter touchdowns to break open a tie game and they never looked back. Alex Smith had all day to throw and receivers running wide open in the secondary as he threw three touchdown passes while throwing for 303 yards. There were huge holes in the running game as well as Frank Gore ran for 106 yards and a touchdown. The 49ers rumbled for 311 yards on the ground. The Bills did nothing offensively to counter as Ryan Fitzpatrick was inaccurate with his throws downfield. Bills Blitz.

Offensive Line Injury Woes: Chad Rinehart was active but did not start because of his calf injury. He was forced into action when his replacement Colin Brown left the game in the first half with a hamstring injury. He did not return as he had trouble putting weight on his leg. Rinehart couldn't finish the game either. Jairus Byrd left the game with a chest injury and did not return. Aaron Williams and Nick Barnett were shaken up late and left the game. Mark Anderson seemed to suffer a leg injury in the final minutes as well and had help getting to the locker room. Injury Page.

Gameday Inactives: Craig Urbik, Cordy Glenn, and Spencer Johnson were ruled out early on with ankle injuries. Jairus Byrd and Chad Rinehart are active after being listed as questionable. Ruvell Martin is active for the first time in three weeks as he is battling back from an ankle injury. He was listed as questionable this week. The healthy scratches are: Tavaris Jackson, Johnny White, Delano Howell, and Kirk Morrison. Kyle Moore is active for the first time this year.

League To Look At Williams' Wrist: The NFL is looking into the injury situation surrounding Mario Williams. The league is wondering why he has never been on the injury report but has complained that he has had a wrist injury since before the season started. Chan Gailey defended it saying they don't put every bump and bruise on the list and he has not missed any practices. The league says if a player has an injury he should be listed regardless if he missed practices or not. NFL spokesperson Greg Aiello said, "the club says he is not injured. We will follow up this week to obtain a formal explanation." A Bills official told Chris Brown of the team's website that it isn't an issue.

Beautiful California Weather: Today's game in San Francisco will be held under Sunny skies with no chance of rain and a gametime temperature of 65°. Winds will be out of the West Northwest at 10mph.

Follow us on twitter! for commentary throughout the game!
Friday October 5, 2012
Rinehart Sit Out Practice: The injured offensive line just got more banged up. Chad Rinehart missed the final practice of the week with a calf injury suffered during Thursday's practice. Chan Gailey said he sat out as a precaution and is expected to play Sunday. He is officially listed as questionable. That is good news since Cordy Glenn and Kraig Urbik have already been ruled out along with Spencer Johnson. Jairus Byrd made it through practice on Friday ok and should play he is listed as questionable. Ruvell Martin may return after missing two games. He is also listed as questionable. Donald Jones and Scott Chandler both practiced fully all week and will play, they are listed as probable. Injury Page.
Thursday October 4, 2012
Byrd Back: Jairus Byrd returned to practice on a limited basis today after sitting on Wednesday as he is recovering from a hip pointer injury. He is improving and is expected to play on Sunday. Spencer Johnson sat out of practice with an ankle injury for a second straight day and has been ruled out by Chan Gailey. Ruvell Martin practiced again today on a limited basis he has missed two games with a high ankle sprain. He is improving but it is unknown if he will be ready for this week. Brad Smith got shaken up a bit during the open portion of practice when Leodis McKelvin landed on him awkwardly but he is not on the injury report. Injury Page.
Tough Road Trip Begins: The Bills begin a tough two game West coast road trip in San Francisco. The 49ers have a great balanced defense making this a very difficult battle against a team that is on a seven game home winning streak. Game Preview.
Wednesday October 3, 2012
Byrd Sidelined: Jairus Byrd did not practice today as he is recovering from a hip pointer injury. Chan Gailey insists he will be able to play on Sunday. Spencer Johnson also sat out of practice with an ankle injury. Mario Williams continues to practice but he said some of his problems this year has been being hindered by a wrist injury suffered before the season started. Ruvell Martin returned to practice on a limited basis he has missed two games with a high ankle sprain. Donald Jones and Scott Chandler are fine after getting shaken up on Sunday and both practiced today. Injury Page.
Another Practice Squad Change: The Bills made their third practice squad move in two days by adding another offensive linemen to boost the injured unit. The team added Reggie Stephens to the unit and released WR Kamar Aiken. Stephens was a 7th round draft pick of the Bengals in 2010 and was on their roster that year.
Practice Squad Swaps: The Bills have released DB Isaiah Green and TE LeMark Brown from the practice squad and added DB Mana Silva and OL Andrew Jackson. Silva was on the Bills practice squad for five weeks last year and has spent time with Dallas. He was cut from their roster when they signed Brian Moorman. Jackson can play both guard and tackle and gives them some depth with the injuries to Kraig Urbik and Cordy Glenn. He was drafted by Atlanta in the 7th round of last year's draft and was on their practice squad during the 2011 season. Front Office Page.
Tuesday October 2, 2012
Many Questions: Losing to New England is bad enough but try living in the Boston area the day after a bad Patriots loss. Tony Bogyo lives up there and on a miserable day after another loss to the boys from beantown Tony talks about all the question marks regarding the once promising season of the Bills. Complete Story.
Monday October 1, 2012
Byrd Ok: Chan Gailey updated some injury situations today. He said Jairus Byrd should be ok after getting a painful hip pointer yesterday. He thinks Kraig Urbik and Cordy Glenn will both miss at least two weeks with high ankle sprains. Donald Jones and Scott Chandler are fine after passing concussion tests. Injury Page.
Jones, Chandler OK: The news was good on two of the five injured starters in yesterday's debacle. Scott Chandler and Donald Jones both passed concussion tests and are ok. They both should be able to play in San Francisco on Sunday. They both left the game after taking blows to the head. The shot on Chandler may get a fine as it looked like an illegal shot to the head. The news isn't that good on the two offensive linemen hurt as both Kraig Urbik and Cordy Glenn are suppose to be out a while with ankle injuries. Urbik did tell the Buffalo News it's nothing real serious. Jairus Byrd suffered a painful hip pointer injury. All these players will be re-evaluated today. Injury Page.
---
News Archives index
Latest News Section
Archives Library
Back to Bills Daily Homepage