Bills Lose Ugly To Patriots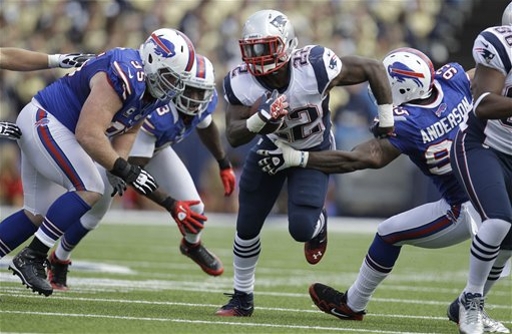 Gameday Grades: Gameday Grades: The defense just got punched in the face in the second half as New England scored on six straight possessions. The Bills offense went inept with three second half turnovers. It all added up to an epic collapse. Gameday Grades.

Bills Blown Out 52-28: Tom Brady threw three touchdown passes and ran for a third as the Patriots blew by the Bills 52-28. The Patriots scored five touchdowns in less than 13 minutes to turn a two touchdown deficit into a three touchdown lead. The Bills opened up a 21-7 lead early in the third quarter when Ryan Fitzpatrick hit Donald Jones on a 68 yard catch and run for a touchdown. It was bedlam at Ralph Wilson Stadium and then the Patriots woke up scoring touchdowns on their next six possessions. Fitzpatrick threw for 350 yards and four touchdowns but also threw four interceptions. The Bills turned the ball over six times while the defense was giving up 580 total yards. Fitzpatrick hit Scott Chandler for touchdowns in consecutive series to erase a 7-0 first half deficit. Bills Blitz.

Many Injuries: It was a bad day for injuries for the Bills especially on the offensive line. Kraig Urbik and Cordy Glenn left the game with ankle injuries and both players will be out a while according to Chan Gailey. Donald Jones and Scott Chandler left with head injuries but they aren't considered serious. Jairus Byrd went out with a hip contusion. None of the injured players returned. Stephon Gilmore was shaken up but came back in the game on the next series. Injury Page.

Jackson, Spiller To Play: Fred Jackson and C.J. Spiller are both active for today's game and will play. Jackson is expected to start and he was ready to go since being cleared by the doctors to play on Friday. Spiller was cleared to play after pregame warmups and will likely come off the bench. Ruvell Martin was ruled out on Friday and are the lone injured inactive for the Bills. The healthy scratches are: Tavaris Jackson, Kyle Moore, Kirk Morrison, Sam Young, Delano Howell, and Colin Brown is active for the first time in his career.

Four Patriots Now Out: Four Patriots that were listed as questionable did not make the trip and are out. As we tweeted yesterday starting guard Logan Mankins is out. Joining him are DTs Brandon Deaderick and Justin Francis and CB Alfonzo Dennard. Rob Gronkowski was added to the list as questionable on Friday but he's expected to play.

Rain Possible: There are rain showers around the Ralph this morning and scattered showers are possible throughout the game with temperatures rising into the upper 50s. Winds will be swirling but light.

Follow us on twitter! for commentary throughout the game!
Saturday September 29, 2012
Gronk Added To Report: The Patriots surprisingly added Rob Gronkowski to the injury report Friday as questionable with a hip injury. He is likely to play though. The Patriots will be without WR Julian Edelman and TE Aaron Hernandez who have been ruled out Among the 10 players listed as questionable along with Gronk is starting guard Logan Mankins. Injury Page.
Friday September 28, 2012
Jackson, Spiller Practice Again: Fred Jackson and C.J. Spiller each practice again today and are listed as questionable for the game. Chan Gailey said they both have a legitimate chance to play. Jackson now has practiced three days in a row while Spiller is practicing for the second straight day. It appears Jackson will play, Spiller is less likely to suit up. Ruvell Martin was the lone non participant in practice and likely will be ruled out. Leodis McKelvin is listed as probable. Injury Page.
Thursday September 27, 2012
Jackson Expected To Play: Chan Gailey said Fred Jackson made it through practice fine today and he expects him to play barring any setbacks. Jackson was officially limited again but looked good according to Buddy Nix. Jackson has sounded less than optimistic when discussing yesterday's practice and how sore he was this morning when he woke up. C.J. Spiller somewhat surprisingly practiced on a limited basis today. He is less likely to suit up Sunday. He didn't take any hits but his full range of motion was there. Leodis McKelvin returned to practice and was limited but should be fine for Sunday. Injury Page.
Jackson Sore: Fred Jackson said he was a little more sore this morning than he expected to be which has him a little disappointed. It appears his knee is not responding as quickly as hoped. He is expected to practice today and see what he can do. He still feels he can play Sunday but doesn't know how long he'll be able to go. C.J. Spiller is taking his progress day to day and it will be up to the trainers when and if he practices this week.
Patriots Should Be Fired Up: The Bills could be walking into a buzz saw at Ralph Wilson Stadium on Sunday afternoon as the defending conference champion Patriots come in on a two game losing streak. They are under .500 for the first time since 2003 this can make it very tough for Buffalo to pull out a win. Game Preview.
Moorman Reaction: Brian Moorman landed on his feet as he signed with Dallas one day after getting released. The players reacted yesterday and to a man were very surprised that one of the team captains is gone. Chan Gailey cited lack of consistency for the reason they made a change. The Associated Press is reporting sources say he didn't see eye to eye with Special Teams coach Bruce DeHaven. Rian Lindell said he will work with whoever becomes the holder so it won't be an issue during games. Shawn Powell will eventually be that guy but until he gets up to speed it's expected to be Tyler Thigpen.
Wednesday September 26, 2012
Jackson Not Happy: Fred Jackson was limited in practice today and didn't come away overly optimistic from his first practice since injuring his knee three weeks ago. He said he struggled with somethings like cuts and there is the mental hurdle to over come. The knee also isn't as strong as he would like. He hopes he doesn't have a setback overnight and how the knee feels tomorrow is very important. Leodis McKelvin sat out with a groin injury suffered in the morning walk through. It isn't considered serious and he says he will practice tomorrow and play Sunday. Injury Page.
Jackson Practices: Fred Jackson practiced today and how well he comes out of it will go a long way in finding out how much he'll play on Sunday. C.J. Spiller did some work on the side and may take some reps later in the week. He says if he can help the team he wants to be out there on Sunday since it's such a big game. Leodis McKelvin and Leodis McKelvin did not participate in today's workout. In other injury news, Donald Jones says his jaw still hurts from the big hit he took on his first reception against the Browns.
Tuesday September 25, 2012
Nix On Release: Buddy Nix spoke to the media about the release of Brian Moorman. He called it a tough decision and Brian was great handling it. He said it's never easy cutting anyone, especially someone who has been here for 12 years. He felt going with Shawn Powell will upgrade the team and he has tremendous upside. He said they considered drafting him. He was quickly signed by the team as an undrafted free agent and performed well in the summer but not well enough to beat out Moorman. I understand them looking to the future and feel Powell can be the punter for years to come. The main concern I have isn't the punting now, but the punting in December at Ralph Wilson Stadium when the winds are really swirling. I also worry about the holding situation. Nix would not say if Powell will hold but he did in training camp for John Potter. Depth Chart.
Bills Release Moorman: In a very surprising move, the Bills have released Brian Moorman. He has struggled with directional punts this year which are the punts Gailey prefers. He was very popular in the locker room prompting Fred Jackson to tweet "WTF??? Released Moorman??? For What??". The team has brought back Shawn Powell who was with the team this summer but was beaten out for the job by Moorman who had a phenomenal training camp and preseason. Powell will also hold for kicks which will take some getting used to by Rian Lindell who was close with Moorman and had him hold for him his entire time in Buffalo. Moorman was 30th in the league in net punting average but was very used to the swirling winds of the Ralph later in the season. He holds virtually all the club punting records. Front Office Page.
Perspective On Win: Fans are excited after two straight wins but Tony Bogyo cautions in his latest column that fans shouldn't get too excited with a huge test coming up on Sunday against New England. Fans should be pleased with the win over Cleveland but remember they are a team with two rookies leading the way. Complete Story.
Monday September 24, 2012
Spiller Likely Back Next Week: An MRI today confirmed what was being reported, the injury to C.J. Spiller is not nearly as bad as originally feared. It has been reported to be a sprained AC joint originally it was thought he broke his collarbone or separated his shoulder. Gailey said he wouldn't totally rule out Spiller for Sunday but he's more likely to be ready next week in San Francisco. Not bad after the pain he was in thoughts of a season ending injury was dancing though many fans' heads. Meanwhile, Fred Jackson said today he's optimistic he will be able to play on Sunday giving himself a 70 to 75 percent chance at suiting up. He expects to practice on Wednesday. If he can play he will help fill the void left by Spiller's injury. Injury Page.
Spiller, Jackson Injury Updates: C.J. Spiller will undergo an MRI today to determine the extent of the injury to his left shoulder. One report says it is a sprained AC joint which would mean he would be back in a week or two. Chan Gailey said he appears to be out at least this week and then they will look at it but admitted it's not long term. That is very good news as it looked real bad when it happened. There were no other immediate injuries known from the win. The coach said there is a chance Fred Jackson will be back this week, he is expected to practice at some point. Injury Page.
---
News Archives index
Latest News Section
Archives Library
Back to Bills Daily Homepage