Bills Get Win But Lose Spiller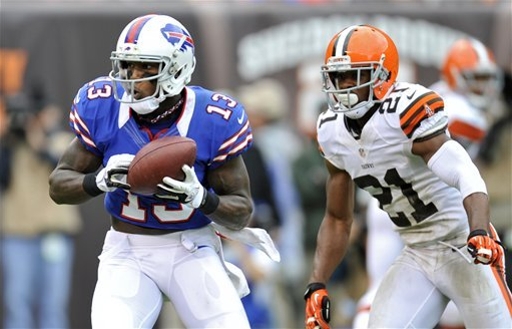 Gameday Grades: The defense really showed some toughness as they shut down the Browns when it appeared they were going to get back in the game. The team dominated the fourth quarter on both sides of the ball to clinch the victory. The grades will reflect the character the team showed in this win. Gameday Grades.

Bills Beat Browns 24-14: Ryan Fitzpatrick threw three touchdown passes including a 9 yard pass to Stevie Johnson in the fourth quarter to clinch a 24-14 road win over Cleveland. It was the Bills first road win since opening day last year but there was a cloud to the silver lining. Before he left he scored on a 32 yard catch and run of a screen pass to give the Bills a 14-0 first quarter lead. Fitzpatrick hit T.J. Graham from nine yards out for his first NFL touchdown to get the scoring started. The passes to Graham and Jackson looked like the same play. Rian Lindell hit a 37 yard field goal for his first three pointer of the year. Tashard Choice did very well in place of Spiller running for 91 yards on 20 carries. Bills Blitz.

Spiller Suffers Bad Injury: C.J. Spiller went down with a left shoulder injury that looks serious. He was in obvious pain and needed help getting off the field. He went off on the front of a cart and was quickly ruled out the rest of the game. He will have an MRI tomorrow. Chan Gailey said it's not a collarbone injury and he doesn't think it's long long term but he will be out at least this week. Jairus Byrd got shaken up and walked off under his own power. He appeared to have re-aggravated his ankle injury. He returned in the next series. Injury Page.

Gameday Inactives: Fred Jackson and Ruvell Martin were ruled out on Friday and are the lone injured inactives for the Bills. The healthy scratches are: Tavaris Jackson, Kyle Moore, Kirk Morrison, Sam Young, and Colin Brown. Delano Howell is active for the first time in his career.

Lease Talks Heating Up? The Buffalo News reported today in an exclusive article that it appears the lease talks are on an upswing. As we reported the Lt. Gov and Deputy County Executive met on Friday in New York City. The article reports that the Governor has spoken to treasurer Jeff Littmann twice since that meeting and all sides are not optimistic that talks will get going again. The State seems willing to give substantial money for the renovations as long as the Bills give them some assurances they will stay or a heavy buyout for them to leave that will allow the state to recoup costs of the lease. The Buffalo News estimates a buyout on a lease would go on a sliding scale starting at $50 to $75 Million. The State feels a 10 year lease is a good length and the Governor has offered to fly to Detroit to meet with Ralph Wilson when his health permits.

Partly Cloudy And Cool For Game: Should be a typical fall afternoon for the first football game in Autumn. Today's game in Cleveland will be played under partly cloudy skies with temperatures in the upper 50s and a slight chance of a shower. Winds will be out of the West Southwest at 12mph.

Follow us on twitter! for commentary throughout the game!
Saturday September 22, 2012
Toronto Series Renewal: Rogers Communications vice chairman Phil Lind was in Buffalo yesterday to announce the Blue Jays affiliation with the Bisons. Russ Brandon also attended the announcement. AP asked Lind about the renewal of the Bills-Toronto series and he said he would not give a timeline but it will be soon. Brandon also said they hope to announce a deal in the near future.
Lease Talks: New York Lt. Governor Bob Duffy and deputy county executive Rich Tobe met in New York City to discuss the new lease for the Bills at Ralph Wilson Stadium. Talks were described as productive and the two released a statement that said, "both the state and county are lockstep in their commitment to keeping the Bills in Buffalo, and we will continue to refrain from negotiating through the press." The Bills are reportedly asking for $200 to $220 million in improvement to the 40 year old stadium and would like the state and county to pay for most of it. The rest would likely come from a loan fund the NFL has for stadium improvements. It is too late for them to get the loan on next month's owners meeting agenda which will force the county to enter in a one year extension with the team while a long term deal is worked on.
Friday September 21, 2012
Barnett Back: Nick Barnett returned to practice as expected today and should be ready for Sunday. He is officially listed as probable. Jairus Byrd also practiced for a second straight day and Chan Gailey said he should be good to go, he is listed as questionable. The only two players not to practice were Ruvell Martin and Fred Jackson. Both players have been ruled out for the game but were doing work on the sidelines. Jackson is moving better and may have an outside chance to return as early as next week. Injury Page.
Thursday September 20, 2012
Martin Out: Ruvell Martin has been ruled out of Sunday's game after not practicing again today with an ankle injury. Jairus Byrd did return to practice to the surprise of Chan Gailey. He was very limited but it now looks like he will play on Sunday. Gailey also said that Fred Jackson is ahead of schedule in his recovery and said he must be a fast healer. Nick Barnett sat out with a slight knee ailment but he's expected to practice tomorrow and play on Sunday. Injury Page.
Dareus Back: Marcell Dareus is back with the team today one day after the funeral of his brother. He is expected to practice today and play on Sunday.
Road Battle Ahead: Which Bills team will show up in Cleveland this week? The one that got blown out in New Jersey on opening day or the team that beat up the Chiefs at Ralph Wilson Stadium last week. The Bills better hope the latter shows up because the schedule gets much tougher after they play the winless Browns and they can't afford to slip up. The Browns will be ready and are better than their record as they had two close losses against Philadelphia and Cincinnati. Game Preview.
Wednesday September 19, 2012
Byrd Takes Step Back: Jairus Byrd has taken a step back and did not practice today along with Ruvell Martin, Fred Jackson, and Marcell Dareus. Jackson did some light running drills on the side with trainers. He got re-examined Monday and it was very positive now he needs to guard against doing too much too quickly. Byrd is not responding to his injured ankle very quickly and Chan Gailey said he may have trouble practicing this week making him a game time decision for Sunday's game. Dareus is back in Alabama for his Brother's funeral and he's battling a shoulder injury as well. Martin has an ankle injury but x-rays were negative. Injury Page.
Toronto Rumors False: Russ Brandon was on WGR today and said the story over the weekend in the Buffalo News regarding the Toronto series was inaccurate. The team will not be playing more than one regular season game a season up north in the new agreement. The deal apparently is being finalized as Brandon hinted details will be announced soon. The Bills CEO is headed to Alabama today for the funeral of the brother of Marcell Dareus. No word yet on when Dareus will return to the Bills but he is expected to play on Sunday.
The quickest way to get breaking news on Media Day along with updated injury news is to

follow us on twitter!
Tuesday September 18, 2012
Things Look Better: What a difference a week makes that is for sure. Everyone was jumping ship after the debacle at the Meadowlands. Things look much better after the Bills turned the tables on Kansas City with a rout of their own. Tony Bogyo breaks down the win and wonders what is next for this team in the crazy unpredicatable NFL. Complete Story.
Monday September 17, 2012
No Serious Injuries: The Bills made it through the win over Kansas City without any new serious injuries. Chan Gailey said a few players may miss some practice time because of bumps and bruises but nobody seems hurt enough to miss any games. Ruvell Martin, Cordy Glenn, George Wilson, Stephon Gilmore, and Jairus Byrd all got banged up at times in the game. Injury Page.
---
News Archives index
Latest News Section
Archives Library
Back to Bills Daily Homepage