Bills Blown Out In Season Opener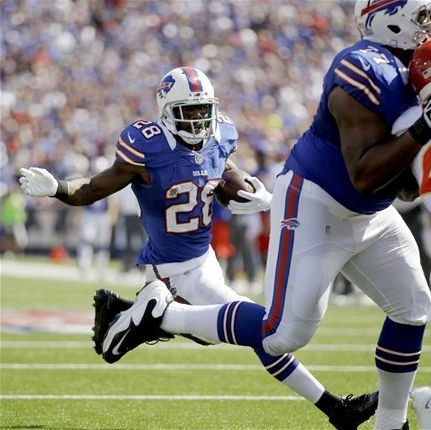 Gameday Grades: The Bills put it all together for their first win of the season in their 35-17 win over the Chiefs to even their record at 1-1. The offense made plays led by C.J. Spiller and the defensive line made plays with five sacks. Our grades are obviously very good after the win. Gameday Grades.

Bills Blow Out Chiefs 35-17: The Bills bounced back nicely from the opening day loss at the Meadowlands to blow out the Chiefs 35-17 at the home opener at Ralph Wilson Stadium. C.J. Spiller ran for two scores and 123 yards on just 15 carries. He also had three receptions for 47 yards including a 27 yarder that setup a score. Ryan Fitzpatrick played mostly error free ball as he hit on 10 of 19 passes for 178 yards including a 10 yard touchdown pass to Scott Chandler just before halftime and a 49 yard catch and run for a score by Stevie Johnson. Leodis McKelvin added an 88 yard punt return for a score to give the Bills an insurmountable 35-3 lead before the Chiefs scored two late touchdowns. Nick Barnett forced a fumble that was recovered by Bryan Scott and Alex Carrington forced a fumble that was recovered by Mario Williams. The Bills defense had five sacks including two by Kyle Williams and one each by Marcell Dareus and Kelvin Sheppard. Bills Blitz.

No Major Injuries: The Bills seemed to get out of the game ok. George Wilson, Stephon Gimore, and Cordy Glenn all seemed to get banged up but should be fine. Wilson was already splitting reps with Da'Norris Searcy. Injury Page.

Perfect Weather: It is an absolutely gorgeous day to open the home schedule for the Bills. The game will be played under sunny skies with temperatures in the low 70s. Winds will be out of the West Southwest at about 9mph. Bills Daily will be at the game so follow us on twitter for updates. We will do our usual Bills Blitz and grades later Sunday night or Monday.

For updates from Ralph Wilson Stadium

follow us on twitter!
Friday September 14, 2012
Jackson Only One Sitting: The Bills are pretty healthy heading into the home opener with Fred Jackson being the only active player not practicing today. Four players have been ruled out for the Chiefs including three starters. CB Brandon Flowers is listed as questionable and should play. Injury Page.
Rogers More Playing Time? Chan Gailey indicated yesterday that Justin Rogers may see some time in the slot this week. Leodis McKelvin struggled mightily against the Jets there and Rogers played pretty well last year in the slot. He was battling a hamstring injury all summer that kept him from battling McKelvin for the job but the Coach says he needs to see what he can do at some point. Gailey also said that Erik Pears and Chris Hairston will once again rotate at right tackle as Pears rounds back into shape after battling a groin injury. Depth Chart.
The quickest way to get breaking news from Bills Daily is to

follow us on twitter!
Thursday September 13, 2012
Dareus Back: Marcell Dareus returned to the team around Noon and practiced fully with the team today. His brother was murdered on Sunday and he left the team sometime during or before Tuesday's off day to go to Alabama. He did not speak to reporters but released a statement that said, "I know I have a lot of things going on off the field, but I am here and ready to play. Now is a tough time for me and my family. But thank you very much for the support because I truly need it at this time. I can't express how I am feeling right now, but I will go out on the field and give it my all on Sunday. I am ready to continue to prepare for this week's game with my Bills family here. Then I will go home and be with my family". Chan Gailey said he could tell he is hurting. One teammate said he has 60 brothers on the team that care for him too. The only non-participants in practice today were Fred Jackson and of course David Nelson. Injury Page.
Bills Look To Rebound: Sunday's home opener will be a battle between two teams looking to rebound from poor performances during week one. The banged up Chiefs come to town but they get star pass rusher Tamba Hali back. He was suspended for the first game of the seaoson. The 12th man will be needed as the Bills are banged up on the offensive side of the ball and it should be an emotional day for Marcell Dareus. Game Preview.
No Lease Extension Yet: Contrary to reports yesterday no one year lease agreement has been reached but the two sides are expected to pursue one. The extension is necessary as a long term deal has not happened as quickly as they wanted it too. The State is supposedly dragging their feet in the negotiations but a spokesman for Cuomo denies the allegations and says a deal is very important. A one year extension doesn't bode well if Ralph Wilson passes on before a long term deal could be reached. The State wants any deal that requires an investment from taxpayers to come with assurances the team stays in Buffalo when a new owner takes over.
Wednesday September 12, 2012
Jackson, Dareus Not Practicing: The only two players not practicing are not a surprise. Fred Jackson is not practicing but said he expects to be back in four weeks if not sooner. Marcell Dareus was the only other player not practicing as he left the team to be with his family following the murder of his brother. Dareus is expected back in time for Sunday's game but it is unknown at this point exactly when he will return. Stevie Johnson is practicing and looks pretty good by media reports. Injury Page.
Lease Extension: The Bills and Erie County reached an agreement on a one year extension to the lease so it will now expire in July of 2014. The extension was needed after it came out that it appears the State is dragging their heels on negotiations and it is now too late to get a deal done for next year and apply for the NFL stadium improvement loan program. A one year extension is nice but if something were to happen to Ralph Wilson before a long term lease can be reached than things will get a little nervous around Western New York.
Dareus Brother Killed: Reports out of Alabama say the brother of Marcell Dareus was killed. Dareus is on his way home to be with his family. Reports say his brother 19 year old Simeon Gilmore was one of three murdered in a triple homicide. Several of his teammates tweeted their support and prayers. Bills Daily sends our condolences to Dareus and his family.
Tuesday September 11, 2012
Nelson On IR; White Back: In a move that was totally expected the Bills have placed Donald Nelson on injured reserve ending his season with a torn ACL. In a move that was also expected they filled the roster spot with running back Johnny White. He was a fifth round draft pick of the Bills last year and spent the season with the team. He was released at the final cutdown as he battled injuries all training camp. Depth Chart.
Monday September 10, 2012
MRI Monday: There were two important MRIs today for Bills players, the MRI on David Nelson's injured knee showed that he tore his ACL and will be lost for the year. Chan Gailey said on WGR this morning that T.J. Graham would see his development sped up with Nelson out. The MRI on Fred Jackson's knee was inconclusive and he will be re-evaluated it in 7-10 days. Chan Gailey says he will miss at least three weeks but doesn't think he will miss eight weeks. The coach also said that they may add another running back before Sunday's game. The obvious choice would be Johnny White who was with the team last year and all summer. The coach said this afternoon that Tashard Choice will also be getting more playing time. Injury Page.
Loss Was A Mess: The blowout loss to the Jets definitely was something that shaked the confidence of Bills fans everywhere. It may have just brought expectations back down to where they should have been to begin with as fans may have been to optimistic about this team. The injuries made things worse. Tony Bogyo is back with his first game recap of the year. Check it out if you aren't too depressed already. Complete Story.
The Day After: Chan Gailey was on WGR this morning as a post mortem to the debacle in the Meadowlands yesterday. The coach was critical of the pass rush yesterday but after reviewing the film he said the bigger problem was the pass coverage. I was at the game and I couldn't believe how open the Jets receivers were all day running down the field and we aren't talking about a top notch wide receiver corps. We should know more by the end of the day about the status of David Nelson and Fred Jackson. The coach said Nelson looks like he will be out a long while but Jackson's injury likely isn't as serious. One thing seems for sure, neither player will likely play in the home opener Sunday.
The quickest way to get breaking news from Bills Daily is to

follow us on twitter!
---
News Archives index
Latest News Section
Archives Library
Back to Bills Daily Homepage