Bills Bounce Back With Overtime Win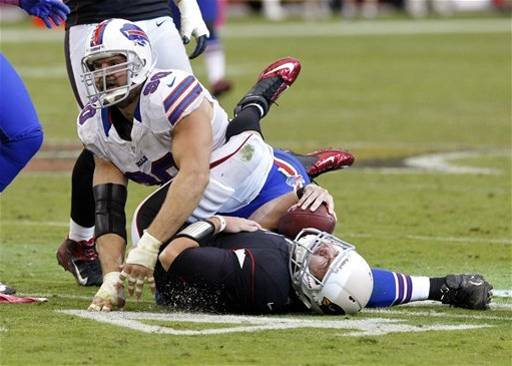 Bills Blitz: Jairus Byrd's interception of John Skelton in overtime set up Rian Lindell's game winning 25 yard field goal to lift the Bills to a 19-16 overtime win in Arizona. The win evens their record at 3-3 along with the rest of the AFC East. Byrd picked off Skelton, who was in for the injured Kevin Kolb, on a third down pass on their first possession of overtime. He returned it 29 yards to the six yard line. Byrd also picked off a pass in the fourth quarter that should have allowed the Bills to hold on to win in regulation. A mundane game got very interesting late when Jay Feely tied the game with a 61 yard field goal with 1:09 left but then missed a 38 yarder at the buzzer to send the game to overtime. The Bills had taken a 16-13 lead into the fourth quarter on a one yard plunge by Fred Jackson. The Bills used a very conservative attack offensively that almost cost them the game but the defense played aggressively as Mario Williams and Nick Barnett each got two sacks. Chris Kelsay had a sack in the end zone for a safety. C.J. Spiller had 88 yards rushing on 12 carries including a 10 yard touchdown run after the safety to give the Bills the lead at the end of the first quarter. Bills Blitz.

Rinehart Struggled With Injury: Chad Rinehart had to split time in this game with Sam Young. He was struggling playing with his calf injury. All the other banged up players made it through the game fine. Marcell Dareus needed help getting off the field at the end of the third quarter but quickly came back after having his left leg checked. Injury Page.

Gameday Inactives: Craig Urbik, Cordy Glenn, Mark Anderson, and Spencer Johnson are out with injuries. Jairus Byrd, Kyle Williams, Eric Wood, and Chad Rinehart are all active after being listed as questionable. Newly signed Reggie Wells doesn't have enough of a handle on the offense yet and is inactive as well. The other healthy scratches are: Tavaris Jackson and Kirk Morrison.

Desert Weather: Today's game in the desert will be played under sunny skies with temperatures climbing into the 90s and light winds out of the east. The weather won't matter though as the roof is closed.

Follow us on twitter! for commentary throughout the game!
Saturday October 13, 2012
Roster Moves Made: The Bills elevated two players from their practice squad to sure up depleted numbers on both sides of the line of scrimmage. They activated DT Jay Ross and G/C David Snow. To make room they released RB Johnny White and S Delano Howell. The moves were necessary as recently signed Reggie Wells hasn't had enough practice time to be activated leaving the team with just six linemen among them are banged up players Chad Rinehart and Eric Wood. Ross is needed with Spencer Johnson sidelined with an ankle injury. The team now has two open spots on the practice squad. Depth Chart.
Bradham To Start: In a move that is not surprising another rookie has cracked the starting lineup. Nigel Bradham will start at strongside linebacker for the struggling Arthur Moats. The handwriting was on the wall last Sunday when Bradham got the majority of the snaps at the position and performed pretty well. Depth Chart.
Friday October 12, 2012
Williams Practices: There was a sigh of relief from the Bills today as Kyle Williams returned to practice after missing the past two days with an ankle ailment. He is expected to play. Chad Rinehart sat today as expected to rest his calf for Sunday's game. He made it through practice yesterday fine and was doing strength work on the side today with the trainers. Injury Page.
Williams Sits Again: Kyle Williams sat out practice again yesterday but still says he should play Sunday. The ankle injury is not on the same foot he had surgery on last year. Chad Rinehart returned to practice and said his calf felt much better than last week and he thinks he will be able to play Sunday. He will likely sit out Today's practice to rest the calf but they are happy with what he was able to do yesterday. Jairus Byrd practiced again yesterday on a limited basis and is on pace to play. Injury Page.
Thursday October 11, 2012
Bills Look To Get Back On Track: The Bills wrap up their two game West coast swing with a game against the 4-1 Cardinals. Arizona has had 10 days to prepare for a game that many consider is a must win for Buffalo after the debacle of the last two weeks. They must prove they can play out West something they haven't done much of in the last decade. Game Preview.
Kyle Williams On Report: Kyle Williams did not practice yesterday with a minor ankle ailment. He was riding the bike on the sidelines and said he should return to practice today. The team put Mario Williams on the injury report for the first time with his wrist injury although he practiced fully. This is on the heels of an NFL investigation into why he hasn't been on the report. Eric Wood has a foot problem and was limited yesterday. Aaron Williams practiced fully. Injury Page.
Wednesday October 10, 2012
Byrd To Practice: Jairus Byrd will practice on a limited basis today while Chad Rinehart will sit but they hope he can get on the field on Thursday. Gailey hopes to have Rinehart on Sunday because he doesn't feel newly signed OL Reggie Wells will be ready to be active. He has not ruled out another roster move to add depth to the offensive line. There are three of them on the practice squad.
Anderson Out A While: The Bills have confirmed that Mark Anderson will be out indefinitely with the knee injury suffered on Sunday. He will likely have surgery and they should know more on how long he will be sidelined after he meets with Dr. Andrews. Injury Page.
Bills Bolster OL: The Bills took a step to boslter their decimated offensive line. They signed veteran free agent guard and tackle Reggie Wells and placed Colin Brown on injured reserve. He suffered a torn hamstring during Sunday's loss. Wells is a 10 year veteran who played in Arizona for seven seasons and was on and off the Chargers roster this year. His has 91 career starts in 117 games. He may be pressed into action this week at least as a backup. Chad Rinehart won't practice today with his calf injury but Gailey thinks he has a chance to play on Sunday. Tackle Sam Young may have to start at guard this week if Rinehart can't go. Depth Chart.
Tuesday October 9, 2012
Bradham New Starter? Nigel Bradham spent a lot of time at strongside linebacker on Sunday taking reps away from Arthur Moats. Chan Gailey was asked last night if the rookie may get the start on Sunday and he said it is possible they will wait until the end of the week to make the decision. Bradham had a solid training camp but hasn't played too much early in the season. He performed fairly well after Moats bit on too many play action fakes in the loss. Depth Chart.
Anderson Has MRI: Mark Anderson underwent an MRI yesterday in Arizona but the result was not available when Chan Gailey met with the media. His status will be updated by tomorrow. The Bills are decimated on the offensive line as Chad Rinehart won't practice on Wednesday with his calf injury but Gailey thinks he has a chance to play on Sunday. If he can't go backup tackle Sam Young will go in his place because Colin Brown has already been ruled out with a hamstring injury. Young never took reps at right guard until this past week and finished the 49ers game there. Jairus Byrd also won't practice Wednesday with a chest injury but Gailey is hopeful he can play Sunday as well. Aaron Williams is expected to be fine after injuring his hand in the loss to the 49ers. Injury Page.
Monday October 8, 2012
Simply Embarassing: The Bills have hit a new low as this loss was a total embarassment. The defense appears to have talent but they are totally under achieving. The question is do they really have talent or has the team evaluated the talent wrong? Either way it's very depressing. Tony Bogyo breaks down another blowout loss. Complete Story.
---
News Archives index
Latest News Section
Archives Library
Back to Bills Daily Homepage