Eventful First Week Of The Offseason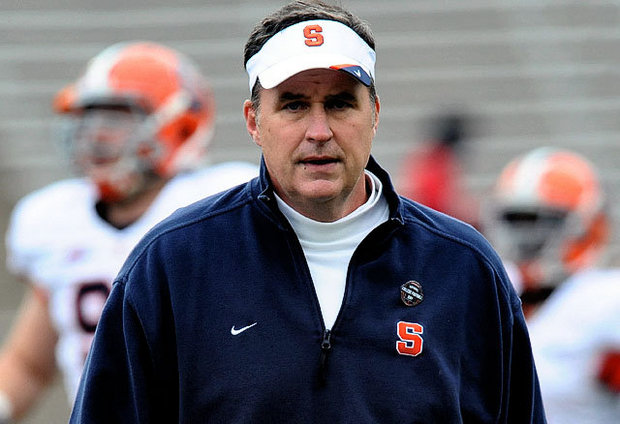 Marrone Is The Guy: Several reports say Doug Marrone is the new head coach of the Bills. They have agreed in principle on a deal but it is not officialy yet but should be by the end of the day. He is considered an offensive innovator who is credited with turning around the Syracuse football program. He went 25-25 over four years there but won the Pinstripe Bowl this year. He was the offensive coordinator under Sean Payton in New Orleans from 2006 to 2008 but did not call the plays. Before that he was the offensive line coach for the Jets from 2002 to 2005. He interviewed with the Browns and was scheduled to interview with the Eagles and the Chargers. He came highly recommended by Payton and Bill Parcells. Russ Brandon is from the Syracuse area. The Bills also interviewed Chip Kelly, Ken Whisenhunt, Ray Horton, and Lovie Smith for the job. They were suppose to interview Mike McCoy yesterday but he asked for a postponement of it. Let us know what you think of the hire. Take our poll on our homepage.
Saturday January 5, 2013


Three Interviews Confirmed: The Bills confirmed that they interviewed three candidates for their open head coaching position on Friday. The team announced just before midnight they had met with Oregon coach Chip Kelly, Syracuse Head Coach Doug Marrone, and former Bears Head Coach Lovie Smith.They are scheduled to interview Denver Offensive Coordinator Mike McCoy today. Kelly reportedly is finishing interviews today and the is expected to agree to terms with the Browns. After today the team would have met with six candidates and will likely be down to five of them if Kelly goes to Cleveland. It is unknown if the team will meet with other candidates or regroup to decide their next move. Who do you want them to hire? Take our new poll on our homepage and let us know!


Friday January 4, 2013


Kelly To Cleveland? Several reports say Chip Kelly has decided to take the head coaching job in Cleveland. It appears he never made it to interview with the Bills contingent. He wanted to make a decison quickly and apparently has. He also was scheduled to be interviewed by Philadelphia. Next up for the Bills appears to be a meeting in Denver tomorrow with Broncos offensive coordinator Mike McCoy. They reportedly met with Syracuse Head Coach Doug Marrone today in Arizona.

Bills Expected To Interview Marrone Today: The Cleveland Plain Dealer reports that Syracuse Head Coach Doug Marrone has already interviewed with the Browns about their head coaching job and is expected to interview with the Bills as early as today. Marrone's name was one of the first to come out connected with the Bills job.

Kelly Interview Expected Today: Now that Oregon has won the Fiesta Bowl the stock couldn't get any higher for Chip Kelly who is expected to start is flirtation with an NFL head coaching job today. The Bills are expected to interview perhaps the hottest head coaching candidate today. He is also expected to interview with Philadelphia and Cleveland. He said he will make his decision pretty quickly and won't rule out returning to Oregon. Most feel the Bills are a longshot to land Kelly. The team reportedly will also interview Denver Offensive Coordinator Mike McCoy tomorrow and are expected to interview Lovie Smith over the next couple of days as well.


Thursday January 3, 2013


Smith Interview: Many people have been wondering when or if the Bills would talk to Lovie Smith about the head coaching job. WGR is now reporting that the team plans to interview the former Bears coach this weekend. Several reports say Smith is very interested in the Bills job. He would be the biggest and most experienced name to be interviewed so far.

A Busy Few Week At One Bills Drive: From the least to the firing of Chan Gailey to the promotion of Russ Brandon, it has been a busy time at One Bills Drive. Tony Bogyo is back after a few weeks off with a column putting in his two cents about the recent developments off the field. He loves the new lease but is skeptical about the change in power. Complete Story.

Coaching Search Continues: The Bills confirmed that they met with Ken Whisenhunt on Tuesday night. He is considered by some as the early favorite for the job. Cardinals defensive coordinator Ray Horton and the Bills website confirmed he met with the team on Wednesday. He also interviewed with Arizona and Cleveland. The group is reportedly going to meet with Oregon head coach Chip Kelly on Friday in Arizona a day after he coaches in the Fiesta Bowl. He is also suppose to interview with Cleveland and Philadelphia. They also will reportedly fly to Denver to meet with Broncos offensive coordinator Mike McCoy over the weekend. With Denver in the playoffs they are only making McCoy available for interviews over the weekend.


Wednesday January 2, 2013


Whisenhunt Interview: The Bills have confirmed that the hiring contingent of Russ Brandon, Buddy Nix, Doug Whaley, and Jim Overdorf are in Arizona to conduct job interviews for the head coaching job. They reportedly met with Ken Whisenhunt last night and will reportedly meet with Ray Horton today. Whisenhunt was fired as the Cardinals head coach after a five win season and Horton is still on the Cardinals payroll as their defensive coordinator. There is also speculation that they will try to meet with Oregon's Chip Kelly who is in town for the Fiesta Bowl which is tomorrow night. Kelly is unlikely to do an interview before that game and it is unknown how long the contingent will be in Arizona.


Tuesday January 1, 2013


Wilson Statement: Ralph Wilson released a statement about the promotion of Russ Brandon. It said, "Russ Brandon has done a tremendous job in his 16 years with our organization and is very highly respected throughout the National Football League. He has proven to be extremely successful with each new level of responsibility he has been given and has earned this opportunity. Russ is a proven leader and he will now have full authority over the entire Buffalo Bills operation. I have granted him full autonomy to run the organization as he feels is best. These past 13 years have been very difficult on our fans and we have not produced the type of winning team that they deserve, it has been frustrating for our organization and for me as well. We want our team to be one that our fans are proud of. I believe that Russ has the unique abilities to assemble and lead the talent we will need to get the job done."

Let us know what you think of today's news! Take our poll on our homepage!

Goodell Statement: Roger Goodell released a statement about the Bills organizational changes today, "Russ Brandon is a dynamic, forward-thinking leader. He is a proven executive with extensive experience in the operation of the Bills. He is committed to the Buffalo region and understands the dynamics of the NFL. Ralph Wilson's decision is a positive step to enhance the stability of the franchise."

Brandon Press Conference: Russ Brandon said it is emotional and humbling for him to take over as the President of the team. He said he has zero restrictions and zero limitations. He said his goal in life was to be a team president and he never thought he would be able to do it in his home region. He said he will not pick free agents or draft picks that will be up to the football operations which will be led by Buddy Nix. He said nothing has really changed except that Nix reports to him now instead of Ralph. He said the reports that there will be a transition at the GM position is false. He called nix the best talent evaluator in the business and has no loss of power. He called his meeting with Ralph like a father passing the torch to his son. Brandon said he will identify and bring in world class people to this organization and he will empower people to do their jobs. He said the last decade has been completely unacceptable to every single person in the room which included Thurman Thomas and Ruben Brown. CFO Jeff Littman will be a close advisor to Brandon. Part of the reason for the move was that Wilson can't travel much anymore and it is hard to manage a club from afar. Brandon said a new stadium on the horizon is a drawing point for coaching candidates.

Nix At Presser: Buddy Nix said a transition will happen eventually at 70 years old you don't have a 20 year plan. He called the firing of Chan Gailey in organziational decision but the final decision was with him. He said they will try to get the best guy for the Bills that they can find and are looking for someone that will make the transition the easiest. He said the might get a college coach or a coordinator but would rather someone with head coaching experience. He re-iterated that they will be drafting a quarterback and will look at one in free agency. He said the new coach will be involved in these decisions including whether or not they bring back Ryan Fitzpatrick.

Inteviews To Start Tomorrow: Howard Simon is reporting that interviews will start tomorrow for the next head coach. Russ Brandon, Buddy Nix, and Doug Whaley will head to Arizona to reportedly interview former Cardinal head coach Ken Whisenhunt and Cards Defensive Coordinator Ray Horton. Simon also confirmed that Syracuse head coach Doug Marrone will be interviewed for the job. He also confirmed that Lovie Smith has called to express his interest in the job. Simon reports that they prefer a guy with previous head coaching experience. That experience can be in the college ranks but they prefer someone that has coached in the NFL at least as an assistant. Simon goes on to say sources told him more than two dozen candidates have contacted the Bills telling them they are interested in the job. The organization changes makes the bosses younger and more in touch with the modern NFL. Brandon and Whaley will make the final call on the new coach and with them at the helm more coaches are likely interested in the job.

Brandon Promoted To President: Several reports say that the press conference will be to announce that Russ Brandon has been promoted to President of the team and will also still hold the title of CEO. Howard Simon on WGR reports that Ralph Wilson is removing himself from the day to day operations of the franchise and passing the torch to Brandon. Quotes used by Wilson include "I'm passing the torch off to you" and "It's your show." Buddy Nix will stay on as general manager and will be reporting directly to Brandon. He had reported directly to Ralph Wilson in the past. Brandon is only the third President in club history. Wilson has been president for the entire history of the franchise except when Tom Donahoe had the title during his time in Buffalo but Wilson still had final say. Brandon will essentially be acting as the owner of the team now. Reports also say there will likely be a transition period with Doug Whaley eventually taking over as GM from Nix likely after the draft. Whaley and Nix will be running the football operations but Brandon will now have the final say on things not Wilson. Those three men will decide the next football coach. Simon also reports that there are no restrictions or limitations in finding a new coach. He mentions Chip Kelly as someone on the Bills radar.

Nix Reportedly Staying On As GM: The Bills have announced that they will hold a press conference around Noon today. No word yet on what the press conference will be about but reports say Buddy Nix will stay on as General Manager. We will have complete coverage on our twitter feed and more on this website this afternoon.

The quickest way to get breaking news from Bills Daily is to

follow us on twitter!
18 Assistants Fired: Lost in the shuffle of yesterday's news is that 18 assistant coaches were fired yesterday. The biggest loss on that list is likely OL coach John D'Allesandris who was pivotal in the resurgence of the offensive line despite injuries. Check out the complete list of fired coaches along with the complete list of impending free agents on our newly launched front office page.
Surgery Ahead For Williams: Another offseason and another Achilles surgery is likely for Kyle Williams. He revealed yesterday during the locker cleanout day that he may undergo the same surgery he did last year but on the right foot this time. The injury is not considered as bad as the left foot was hurt last year but he played in pain all year. They will wait a little bit before deciding if he needs surgery but it is likely and he expects to be ready for minicamp. Injury Page.
Coaching Reports Begin: In this age of twitter there will be reports often about who the Bills are interested in to be the next head coach. It is hard to believe the Bills have even compiled a comprehensive list of candidates without the general manager position settled yet. We will address most rumors on our twitter feed instead of here but this is what has been heard so far. Adam Schefter reports the Bills will interview Syracuse head coach Doug Marrone this week. Schefter says he will also interview for the Browns head coaching job. Marrone has been the head coach since 2009 and just signed a new long term deal. Jason LaConfora reports the Bills are keenly interested in Cardinals defensive coordinator Ray Horton. His defense ranked 12th in the league this season but just 28th against the run and 5th against the pass. Another NFL Network report says Lovie Smith is interested in Buffalo because of the defensive pieces in place. Mike Lombardi says that Andy Reid would be a good fit in Buffalo. Other reports say fired Cardinals head coach Ken Whisenhunt and ex-Cards OL coach Russ Grim. Several reports mention that Russ Brandon met with John Gruden last week but it is unknown if it is related to the head coaching position. Gruden has been rumored to be exploring leaving ESPN to get back on the sidelines.
Monday December 31, 2012
Brandon Meeting With Ralph: There are several twitter reports tonight that Russ Brandon is in Detroit meeting with Ralph Wilson. The reports also say now that Buddy Nix is back in Orchard Park. It sounds like they are discussing if Nix will keep his job or not.
The quickest way to get breaking news from Bills Daily is to

follow us on twitter!
Bills Sign Five Futures: The Bills signed five players from their practice squad to future contracts. The move guarantees that Zach Brown, Corbin Bryant, Jarron Gilbert, Adam Grant, and Brian Smith will be with the club for the offseason program. This is a normal end of the season step that clubs use to keep some of their practice squad players.
Entire Coaching Staff Fired: A very emotional Chan Gailey talking with tears in his eyes spoke to the media on his request. He gave about a :90 statement and did not take any questions. He said this is the first time that he has been fired that he will root for the team that fired him. He thanked the organization and the fans and said the entire coaching staff was fired as well.
Gailey Fired: The Bills have officially announced that Chan Gailey has been relieved of his duties as the head coach of the Bills. Jerry Sullivan of the Buffalo News broke the story via a tweet that a high level source told him of his release. Gailey was reportedly told this morning while the players were cleaning out their lockers. He will address the media this morning on his request.
Locker Cleanout Day: The players were going through the annual ritual of cleaning out their lockers while talking to the media at One Bills Drive this morning. Some players were leaving some stuff behind, others were cleaning out everything because they know or feel they won't be back. The players met with their position coaches but none have any idea if Chan Gailey will be back. The players all showed support for their coach saying they want him back. The defensive players all think the unit improved as the season went on and would like to build on that. Andy Levitre didn't mix words when he told the media he wants to be back. Levitre along with Jairus Byrd are the biggest names about to become unrestricted free agents. Ryan Fitzpatrick doesn't know his future but said he grown to love the area over the past four years.
Bills Pick 8th: The victory over the Jets yesterday dropped the Bills to the 8th spot in the NFL draft. If they would have lost they would have picked 6th. The last time they picked there was in 2006 when they chose Donte Whitner who made the Pro Bowl this year in San Francisco. Quarterbacks were taken with this pick the last two seasons. Miami took Ryan Tannenhill last year and Tennessee took Jake Locker the year before.
---
News Archives index
Latest News Section
Archives Library
Back to Bills Daily Homepage