Bills End The Season With A Win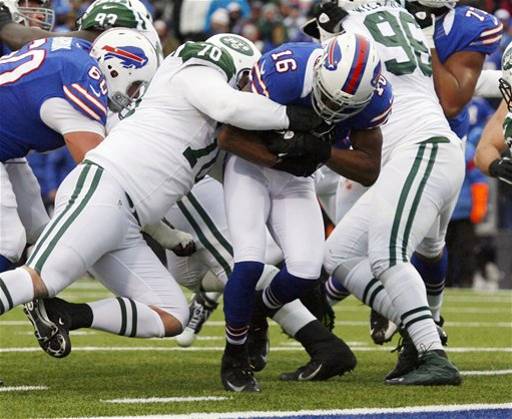 Gameday Grades: The Bills needed to keep the Jets below 29 points to avoid the club record for most points given up in a season. Thanks to a solid defensive effort that shutout the Jets in the second half they were able to accomplish that goal. They also got help from a very poor Jets defense. Gameday Grades.

Bills Win 28-9: Leave it to the Bills to win a game when a loss would have served them better. The Bills brought the Jets down into the cellar of the AFC East with them thanks to a 28-9 win in the season finale at Ralph Wilson Stadium. A loss would have helped the Bills draft position going into April's draft. Bryan Scott returned an interception 20 yards for the Bills only defensive touchdown of the year. C.J. Spiller caught a screen pass and exploded for a 66 yard touchdown to give the Bills a 14-9 halftime lead. The Jets scored only three field goals in a half that they seemingly dominated but were trailing on the scoreboard. Brad Smith added a 4 yard touchdown run out of the wildcat and Tashard Choice put the exclamation point on the season with a 13 yard fourth down touchdown run with 1:10 to go. Spiller only had 59 yards on the ground in 24 carries while Stevie Johnson finished with six catches for 111 yards to go over 1,000 yards for the third straight season. Bills Blitz.

No Injuries: On the surface the Bills appeared to come out of the game with no significant injuries. That is good news, since you would hate a major injury in a meaningless finale. Injury Page.

Gameday Inactives: Da'Norris Searcy and Mark Anderson were ruled out earlier in the week and are the two injured inactives. The healthy scratches are Tavaris Jackson, Keith Williams, Keith Elliott, Jay Ross, and Chris Scott. In a bit of a surprise Shawne Merriman will start at defensive end.

Sunny South Florida: Typical Orchard Park weather for the season finale as the gametime temperature will be around 25° with snow showers possible throughout the game. The wind will be out of the West Northwest at around 15mph.

For in game commentray

follow us on twitter!
Saturday December 29, 2012
Owner In Town: Ralph Wilson made a rare appearance in Western New York yesterday. He was in town for the team's holiday party. The team said he left after the party and is not expected at the game tomorrow. There was some buzz wondering if he was in town to make changes after the game.
Friday December 28, 2012
Anderson, Searcy Out: Mark Anderson and Da'Norris Searcy have been ruled out of Sunday's finale. The rest of the players on the injury report are listed as probable and should play. Ruvell Martin returned to the team today after missing the last two days of practice for personal reasons. Martin should play but the Bills added WR Kevin Elliott from the practice squad. He was added to the squad on Dec. 18th. He takes the open spot on the 53 man roster vacated by Scott Chandler when he went on injured reserve on Monday. Injury Page.
Three Return: Three players that missed practice on Wednesday returned on Thursday. Jairus Byrd, Kyle Williams, and Andy Levitre all participated on a limited basis as expected and should play. The three players have all been taking time off during the week to rest injuries. The only two not practicing yesterday were Ruvell Martin and Da'Norris Searcy. Martin has been excused for personal reasons but is expected back for the game and Searcy has been ruled out. Injury Page.
Thursday December 27, 2012
Bills, Jets Close Out Season: The very disappointing 2012 season comes to a merciful end on Sunday for both the Bills and the Jets. These two division rivals have had similar terrible seasons. Both sides are playing for pride and draft pick seeding. Game Preview.
Wednesday December 26, 2012
No Pro Bowlers For Bills: The NFL announced the Pro Bowl squads and no Bills made the team. This isn't a surprise considering how irrelevant the team has become over the years. They did have several players that seemed deserving including Jairus Byrd, Andy Levitre, C.J. Spiller, and Leodis McKelvin. No word yet on who may be an alternate. Several players usually drop out so if anybody is a first or second alternate they still might end up going to Hawaii.
Bills Make Practice Squad Move: The Bills made a move to bolster their tight end depth on the practice squad. They added Derek Buttles who was a rookie tryout with the team in May. To make room they released OT J.B. Shugarts. With Scott Chandler out and Dorin Dickerson banged up the move gives them versatility if Dickerson can't go.
Four Back Practicing: Four players that are injured practiced on a limited basis today. Chan Gailey said Dorin Dickerson, Mark Anderson, Marcus Easley, and Chris White all hit the field today. Dickerson was carted off against Miami but it was a precaution and tests came out negative. Easley and White missed the game against Miami with hamstring injuries and Anderson is struggling to make it back from a knee injury. Da'Norris Searcy is out with a groin injury but he won't go on IR because they don't need his roster spot. Ruvell Martin will miss a couple of practice days this week for personal reasons. Jairus Byrd also did not practice along with Kyle Williams and Andy Levitre. Injury Page.
Game Blacked Out: The Bills have until 1pm tomorrow to sellout Sunday's game to avoid their second television blackout of the season. They decided to avoid the inevitable and Russ Brandon said on his weekly radio show that the game is indeed blacked out.
Monday December 24, 2012
Chandler On IR: The Bills have placed Scott Chandler on injured reserve after he suffered a knee injury in the loss to Miami. Chan Gailey indicated it is an ACL injury and will need surgery. ACL injuries usually take 7-9 months to heal and rehab so his availability for the beginning of next season is also in jeopardy. Da'Norris Searcy will also miss the finale with his groin injury but the team has a chance at getting Marcus Easley back after he missed the last game with a hamstring injury. The injury to Dorin Dickerson isn't that bad and he has a chance to play in the finale. He will not practice on Wednesday. Injury Page.
2013 Opponents Set: The Bills are locked into 4th place in the AFC East even if they beat the Jets next Sunday based on tiebreakers they will still face a 4th place schedule in 2013. So their opponents for next year are set besides the home and home series with the division rivals they will host: Baltimore, Atlanta, Cincinnati, Carolina, and Kansas City while traveling to face Cleveland, Pittsburgh, New Orleans, Tampa Bay, and Jacksonville. Right now the Bills are in the 6th spot in the NFL draft they can move up to as high as 4th overall and as low as 10th.
---
News Archives index
Latest News Section
Archives Library
Back to Bills Daily Homepage