Bills Pull Off Upset Win Against Denver
Sunday September 24, 2017
Gameday Grades: The defense was solid while the special teams made big plays to help lead an all around team win. Gameday Grades.
Bills Blitz: Tyrod Taylor threw touchdown passes to Andre Holmes and Charles Clay while Stephen Hauschka hit four field goals including ones from 53 and 55 yards out as the Bills shocked the formerly undefeated Broncos 26-16. The running game struggled so Taylor made plays in the passing game hitting 20 of 26 passes for 213 yards and no interceptions to go with his two touchdowns. With the Bills trailing 16-13 early in the third quarter they went on a four play 69 yard drive in just 1:27 to take a lead they would not relinquish. The defense struggled in the passing game in the first half but E.J. Gaines and Tre'Davious White were solid down the stretch to help the Bills gain the victory. Both players had fourth quarter interceptions. Bills Blitz.
Injury Update: The Bills seemed to get through the game without any significant injuries. E.J. Gaines suffered from cramps but stayed in the game. LeSean McCoy seemed to have his wrist bothering him but he stayed in the game. Shaq Lawson was shaken up for a play or two but stayed in the game. Injury Page.
Inactives: Jerel Worthy, Marcell Dareus, and Cordy Glenn lead the inactive list as they were all ruled out on Friday. The other inactives are: Deandre Coleman, Vlad Ducasse, Khari Lee, and Joe Banyard. This means both Brandon Tate and Kaelin Clay will be active to help the receiving corps. Conor McDermott is active for the first time since being claimed off of waivers in week 1. He will be the swing backup tackle. Coleman was re-signed this week but is not active even though they are shorthanded at defensive tackle on a hot day. Cedric Thornton gets the start for Dareus and Dion Dawkins starts for Glenn.
Gameday Weather: It will be near record breaking heat for today's game at New Era Field. It will be sunny, warm, and humid with a high temperature of 86°. Winds will be light out of the northwest at 5mph. The feels like temperature will be 97°. It will be the warmest game in Buffalo since the season opener in 2002 and the first game above 80° since 2011.
For commentary throughout the game

follow us on twitter!
Pegula Statement: Terry and Kim Pegula released a statement after they attended the team meeting reportedly called by Lorenzo Alexander. Coaches and other team representatives were also there. Here is the statement tweeted out by the team: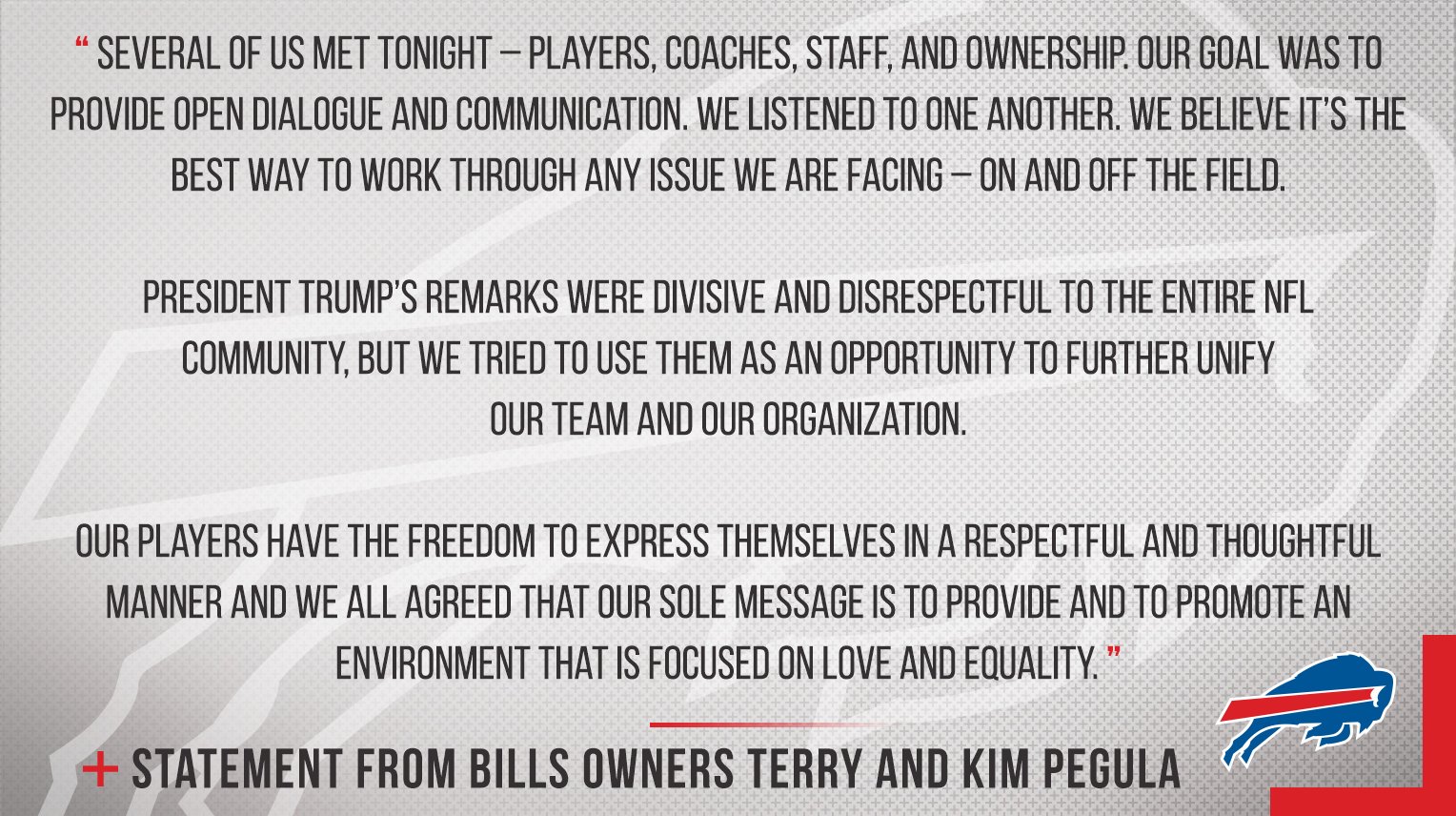 Saturday September 23, 2017
Players Only Meeting: The NFL community as a whole have responded to President Trump's statement that players should be fired if they protest the National Anthem. LeSean McCoy took to twitter and called the president an asshole. Jeff Darlington of ESPN says the Bills particlarly have been emotional about it and are talking about all different forms of protest. This will be interesting to watch tomorrow before the game. The team has decided to call a team meeting tonight to discuss the situation. NFL Network's Tom Pelissero reports NFLPA rep Lorenzo Alexander decided to call the meeting.
Friday September 22, 2017
Three Ruled Out: Hours after Sean McDermott said he was still holding out hope, the team has ruled Marcell Dareus out with his ankle injury for Sunday's game. Cordy Glenn and Jerel Worthy have also been ruled out. All the other banged up players practiced fully on Friday and should be ready to go for the game. Injury Page.
McDermott Presser: Sean McDermott said Marcell Dareus did not practice again today but he has not ruled him out for Sunday yet. He is still hopeful he will be able to go and he is considered day to day. He is confident Shaq Lawson will be able to play but not as confident that Cordy Glenn will be able to play as he is also day to day. He said even if Glenn plays he will be on snap count because of all the time he has missed in practice. Glenn, and Jerel Worthy also did not practice today. The coach admitted it was tough to watch from a fans perspective the performance by Sammy Watkins last night but he's happy with the receivers they have. He feels his team is embracing the underdog role and the receivers are not frustrated by outside criticism. He said Brandon Tate can stretch the field and run all the routes and that will be taken into consideration when figuring out his role as a returner and a receiver. Of course that makes you wonder why he was inactive last week. Injury Page.
Thursday September 21, 2017
Glenn, Lawson Return: Cordy Glenn and Shaq Lawson were back on the practice field today for the Bills but Marcell Dareus was not. Jerel Worthy was spotted going to the field for the first time since his concussion. No word on how much any of these players practiced today. Injury Page.
Game Preview: The Bills head back home to take on red hot Trevor Siemian and the Denver Broncos. The Bills had a tough time against the Panthers defense last week now they have even a tougher task against the Orange Crush defense. At least this one is at home as the Bills look for answers on offense. Game Preview.
Wednesday September 20, 2017
McDermott Media Day Presser: Sean McDermott addressed the local media before hitting the practice field today to continue preparations for Sunday's game against Denver. Marcell Dareus will not practice today with his ankle injury and they will know more going forward it is a sprain. He is concerned about his status for Sunday but it is day to day at this point. Cordy Glenn will also not practice this time it was his other foot that got injured. Shaq Lawson also sitting with his nerve contusion, he is day to day. Lorenzo Alexander and LeSean McCoy will get rest days. McCoy has been dealing with groin and wrist issues. Jerel Worthy remains sidelined with his concussion. The wide receivers need to do a better job winning their one on one battles but he feels they have enough speed in that group. They are going to have their hands full with the Broncos, they are in first place and it is a big challenge. They look forward to playing at home in front of the fans and getting back on track. A key to the game will be controlling the line of scrimmage and it is a big challenge upfront and for the entire football team. The coach has been very impressed with the play of the secondary. He felt signing Robert Blanton and releasing Trae Elston gives them someone who knows the system and is good on special teams. Bringing Deandre Coleman back was because of numbers with all the injuries at defensive tackle. Injury Page.
Bills Fill Roster Spots: The Bills filled their open roster spots signing S Robert Blanton and DT Deandre Coleman both are returning to Buffalo. Blanton was with the team last year and most recently with the Cowboys. He is in his sixth year. Coleman was released at the end of training camp, he was with the team last year first on the practice squad then on the active roster for the last month of the season. Bringing Coleman back may be because of the injuries to Jerel Worthy and Marcell Dareus. Depth Chart.
Tuesday September 19, 2017
Bills Release Two: The Bills made a couple of roster moves by releasing S Trae Elston and LB Jelani Jenkins today. That leaves them with two open roster spots and just three safeties on the depth chart.
Bogyo Column: Tony Bogyo takes a look at Sunday's loss in Carolina. It had a familiar tone for our columnist as it was the type of loss we have seen time and time again during the long playoff drought. This loss shows us what we expected the Bills to be this year. Complete Story.
Monday September 18, 2017
McDermott Presser: Sean McDermott held his Monday press conference the day his first loss as an NFL head coach. Injury wise he said Marcell Dareus and Cordy Glenn are still being evaluated and they will likely know more in the next day or two. Shaq Lawson is also being evaluated for a nerve contusion but he was doing better today. Other than that they came out ok with just the normal bumps and bruises. He feels everyone's frustrations as they didn't stay in a rhythm but it is hard to win games when you score three points. He has to look at what they need to do to spread the ball around the field. There were certainly things they could have done better. He said they look at every position to see what they can do better when he was asked about the quarterback position but he re-iterated Tyrod Taylor is his starter and he staying with the plan. He said it's never just one guy but they will look at things hard this week and try to mix things up. It wasn't all that it needs to be and everyone needs to play better and he needs to do a better job. On the use of timeouts he was looking at real estate and they needed to get down to take one more shot and he wanted to save the timeouts in case he needed them down there. He wanted to make sure he had one for the end. He will continue to learn and look at himself and take a hard look at how he used timeouts. He expects everyone to put in a good week of work and come out firing on Sunday. He thought the defense played extremely well and hard and they have been on the attack which made good things happen. He thought the pressure was very good as the rush and the coverage worked together. He loved the red zone defense which gave themselves a chance to win the game. He praised Ramon Humber and Jordan Poyer. He knows what Brandon Tate can do but wanted to take a look at Kaelin Clay yesterday on returns and offense. He wouldn't say if he was going back to Tate or not this week. He thought Colton Schmidt and the coverage units did a great job which is interesting with a punter in town for a tryout today. The challenge now is to bounce back at home. He agreed with the assessment that teams will key on the running attack and he needs to move people around and put them at positions of strength. He likes how his team stayed with it and gave themselves a chance to win. On Zay Jones he said he needs to understand it takes more than one guy and there were plenty of opportunities to win that game before that play. They have a lot of rookies on the field and they are gaining valuable experience. He is looking forward to his next opportunity. Next time they are in that situation he expects them to win. It is belief in the execution and growing as a football team. They will find out more about the team and they found out more about him after this loss to see how resilient they are. Injury Page.
---
News Archives index
Latest News Section
Archives Library
Back to Bills Daily Homepage