| | | |
| --- | --- | --- |
| | Serving Bills Fans Since 1998 | Home |
---
McGahee Pick Shocked Draft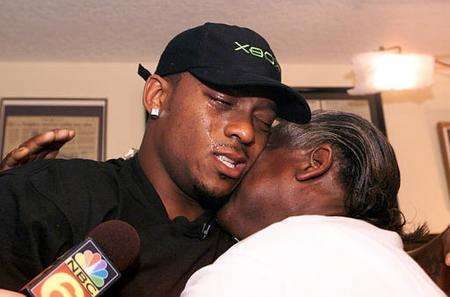 The Bills shocked the entire draft by being the team to select injured Miami RB Willis McGahee. This comes a week after they gave a contract extension to Travis Henry creating a huge running back controversy if McGahee ever returns to form. The team drafted eight players, three on offense, and five on defense. Here is our take on all the issues from the week:

Wow! The first round pick of McGahee has everyone in Western New York and beyond talking. Tom Modrak called him the complete package and and Gregg Williams said not to worry about Travis Henry since he's a fan of his. There is no timetable on when McGahee will play but the team doesn't plan on rushing him. McGahee said he wants to play this year while his agent said he pulled the wool over everyone's eyes in getting his client picked in the first round. Henry called the pick a slap in the face. Our Take: So, what kind of mess do we have here? A pro bowl running back is really pissed off, this controversy will be talking about as long as the Flutie-Johnson debate was. If McGahee becomes a star the Bills could trade Henry, but couldn't other real needs been filled with that pick? We will have a few articles this week with differing opinions on the McGahee pick.



The Bills filled other needs with their other seven picks in the draft. The second round selection of Chris Kelsay was a steal since many thought they would get him in the first round. The third round pick was LB Angelo Crowell. In round four they had two picks thanks to a trade down in round three with Green Bay. They used them on CB Terrence McGee and WR Sam Aiken. There final three picks were Guard Ben Sobieski, DT Lauvale Sape, and LB Mario Haggan Our Take: The Bills drafted versatile players, with high motors to fill more than one need. We think they improved as the draft progressed, check out our final analysis for a complete look on what we thought of the draft and our final grade and player capsules on our draft page.



What made the McGahee pick more curious was that this week the team added to its running back depth by signing free agent Olandis Gary. We thought last week that a Gary deal was dead but he wanted to get signed before the draft and the Bills were the only team prepared to do that. He received a two year deal that could get him around $3 Million if many incentives are reached and a $175,000 signing bonus. Our Take: We thought the Gary deal was good. He will start the season at #2 but will quickly lose playing time if McGahee comes back healthy. I'm sure he now wishes he waited until after the draft to sign with a team, because I'm sure Buffalo wouldn't be that team now.



Ralph Wilson received the Seymour Knox III Humanitarian Award on a ceremony Thursday night. It recognized his commitment to the community and the ceremony was attended by Marv Levy, Tom Donahoe, Pat LaFontaine, and Ruben Brown. Wilson was honored to get the award and modest in his acceptance of it. Our Take: A classy owner who deserves all the praise and awards he gets.



Ken Simonton continues to impress in Europe as he scored his fifth touchdown of the season last week in his club's loss. Our Take: A good year in Europe doesn't give you a spot on the big club. See Curtis Alexander.



---
Talk about it on The Stadium Wall
Week in Review index
Latest News Section
Archives Library
Back to Bills Daily Homepage