| | | |
| --- | --- | --- |
| | Serving Bills Fans Since 1998 | Home |
---
Bills Find New Way To Lose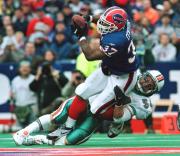 Special Teams Collapse: The Bills played their best game of the year as the offense hummed against a tough Miami defense. The Bills own defense played very well for 55 minutes. The special teams... well that is another story, they started the collapse in the final five minutes and the defense couldn't recover and the Bills totally blew a game they had in the bag. We breakdown all the units in our weekly grades. Gameday Grades.

Bills Implode In Loss: The Miami Dolphins scored 17 points in the final five minutes of the game to give them a 34-27 victory over the Bills. The Bills played well for most of the game but a missed extra point and a kickoff out of bounds opened the door for a late Miami comeback. Eric Moulds caught two touchdown passes of 80 and 54 yards to give the Bills a comfortable lead before they found another way to lose.Complete Review.

Gameday Weather: For the second straight week in late November temperatures will be in the low 60s in Western New York. Unlike last week's sunshine however, today it will rain. Showers are expected throughout the game with the heavier rain early. Temperatures will dip from a high of 62° at kickoff to about 57° near the end of the game. Wind will also be a factor out of the southwest at around 20mph.


Saturday November 24, 2001


Injury Update: Bills strong safety Raion Hill returned to practice with the first unit on Friday and is expected to start tomorrow. Jonas Jennings did not practice and will not start. John Fina will start in his place. There is a small chance that Jennings will be available as an emergency replacement. Travis Henry will be able to start despite suffering back spasms that forced him to miss practice yesterday. Sam Madison will not go for Miami because of his shoulder injury. Updated Injury Page

Tillman In: It appears Coach Williams used another injury to make another change in the depth chart. Keion Carpenter is now healthy and off the injury report after missing a game with an injury. It appears he will now back up Travares Tillman who is continuing to get the snaps with the first unit in practice. Tillman has started the past two games at free safety and played well.


Friday November 23, 2001


Game Sold Out: The blackout has been lifted on Sunday's game against Miami thanks to Owner Ralph Wilson. He bought the remaining 3,500 tickets on Thankgsgiving Day and will donate them to area charities to use.

Hansen May Play: Phil Hansen practiced with the team on Wednesday and says he expects to play on Sunday. Raion Hill practiced on a limited basis on Wednesday and Jonas Jennings did not, both are questionable for Sunday's game. Updated Injury Page.


Thursday November 15, 2001


Riemersma Breaks Nose: There was a big time fight in practice yesterday as Jay Riemersma and Kendrick Office went at it. Riemersma lost the fight and broke his nose in the process. He will be ready to play on Sunday. Injury Page.

Practice Schedule: The Bills are practicing this morning instead of their usual afternoon workout so the players can spend time with their family for the Thanksgiving holiday. They will return to their normal schedule tomorrow.


Wednesday November 14, 2001


Injury Update: The Bills injury report is pretty short this week with only five names on it including the recently IR'd Dan O'Leary. Jonas Jennings, Phil Hansen, and Raion Hill are listed as questionable. Jennings is not as seroiusly hurt as he was last time and may return to practice tomorrow. The Dolphins have 10 names on the list including Sam Madison and Daryl Gardener. Injury Report.

Bills Sign One: The Bills made a roster move today, they placed Dan O'Leary on injured reserve with his wrist injury. They signed Scot Osborne, he has good size and is a solid run blocker. He has been in camps with Seattle, Denver, and New Orleans. Coach Williams feels he should be ready to go fairly quickly since the terminology is similar to what he's used to.

Williams Comments: Coach Gregg Williams spoke about the fact that the team needs to have familiarity to be successful during his medai day press conference. He also said how the team needs to get better on their techniques and he believes they will. He feels the veterans were being good leaders by focusing on the rivalry with the younger players.

Van Pelt On The Rivalry: Alex Van Pelt addressed the media during media day and said that the team held a players meeting to talk about the importance of the Miami rivalry. He talked about how they need extra time to throw against the tough Miami pass defense so the receivers will have time to get separation on the talented cornerbacks of Miami who might be without Sam Madison once again. On Eric Moulds, Van Pelt said he is constantly doubled and he would love to go to him if he is one on one more. The team needs to find a way to get him singled up more often, Van Pelt said he's doubled 80% - 90% of the time.

Cowart Contract Talks: The agent for Bills LB Sam Cowart told the Buffalo News that the Bills have opened discussions with him on a new contract for the injured star. They are talking about doing a tiered signing bonus to make sure that he is healthy. A deal won't get done until March at the earliest because Cowart needs to show he is healthy before a commitment.

Dolphins Preview: It will be a tough assignment for the young Bills this week as they face their archrival Miami Dolphins. Miami is coming off a tough loss to the Jets and will be in a bad mood which may spell trouble for the Bills. Complete Preview.


Tuesday November 20, 2001


Johnson Contract Extension? Team president Tom Donahoe has denied an ESPN report that the Bills and the agent for Rob Johnson have discussed a one year contract extension. This would make some sense since it would bring the cap figure down probably to about the same amount as releasing him would. It would also give them one more year to decide if he can get over the hump. Johnson still has yet to talk to the media since injuring his shoulder last week in New England. He was at the game on Sunday but left early and was not at the stadium yesterday.

Dolphins Game May Not Sell Out: There are still 4,700 tickets remaining for Sunday's game against Miami. If it does not sell out by 1:00 on Thursday it will be blacked out. With it being a holiday week that may not happen. It has been a long time since tickets remained the week of a Dolphins game.

Williams On The Loss: Coach Williams spoke on Monday of the loss and said it was tough since there were many bright spots. He said the team didn't make the plays that would have made a difference in the outcome of the game but they did take major strides as a team. He said they have to make the kick in the fourth quarter that Jake Arians missed. He mentioned that the kicker, holder, and punter were very comfortable with new snapper Mo Unutoa. It appears he will stick around even when Dan O'Leary is healthy. The coach also said that Shawn Bryson and Sammy Morris deserve more touches.

Jennings Only Injury: The only significant injury of note during Sunday's game was to Jonas Jennings. He re-injured the arch on his foot and is having tests to determine the significance of the injury. Jennings left the stadium frustrated by his latest setback on Sunday but said he doesn't think it his as hurt as last time. John Fina filled in admirably at left tackle. Injury Page.


Monday November 19, 2001


Bills Find A Way To Lose: Despite all the emotion of a moving halftime show to honor the career of Jim Kelly the Bills failed to turn that emotion into a victory. The fans at the game were brought back down to reality with a quick touchdown drive by Seattle to start the third quarter. The Bills would never recover and lost a game that was very winnable 23-20. Complete Review.

Offense Shows Life: In the loss the offense showed signs of life behind Alex Van Pelt throwing for a career high 316 yards. The running game failed and the special teams hurt the team, mainly the kicking of Jake Arians. The defense shutdown the passing game and held Shaun Alexander to under 100 yards but they failed to get the elusive game changing turnover. Gameday Grades.

Last Week's News Archives
---
News Archives Index
Archives Library
Latest News Main Page
Back to Bills Daily Homepage